[ad_1]

It is difficult to watch the news these days. Whose heart doesn't ache as we witness what is happening to our fellow world citizens? In Ukraine, people just like us – who want to live healthy lives while raising their families, enjoying friends, being good citizens, working, and living in peace – find their very existence in jeopardy.
From the safety of our homes, we watch with anxiety as millions of people are forced to evacuate the country they love, mothers leaving with their children while their husbands, fathers, and sons are left to fight a war that they never wanted. It's heart-breaking to see a beautiful people and country be overrun with tanks and bombs.
And yet, there is such inspiration in the spirit of the Ukrainian people who refuse to back down, who are resilient, determined, and committed to protect their freedom and to save all that is precious to them, even as their loved ones, homes and lives are on the line. And always, in the midst of atrocities, there are those courageous people who restore our faith in humanity, who will risk their own health and well-being to help total strangers.
We may wonder what we can do to alleviate the suffering of others – especially when that suffering is caused by other humans. We are one. We are all connected. What if we could find simple, meaningful ways to help now from where we are: everything from sending prayers and loving thoughts out for the safety and well-being of those in Ukraine – to contacting our political leaders, asking them to represent our country by offering financial help and medical necessities.
There are many wonderful organizations and charities working to help the Ukrainian people, as well as in other areas of the world. Donations help. Every little bit counts. (For example, last week, Francesco and I got a small refund and considered it a perfect opportunity to donate that money to www.CARE.ORG Ukraine. We plan to send more). Mary B., who offers free outdoor yoga classes, will give ALL DONATIONS for the month of March to Care.org for their Ukraine Crisis Fund. Their website states: "Your emergency gift supports CARE's Ukraine Crisis Fund to reach 4 million with immediate aid and recovery, food, water, hygiene kits, psychosocial support, and cash assistance — prioritizing women and girls, families, and the elderly." And another friend, Paula, found World Central Kitchen (wck.org) a good option to help – and there are so many more. What is your favorite charity to support?
Thoughts can become actions and there are so many ways that we can make a positive difference. Don't second guess yourself. Just do it! You will be touching the lives of those who need it most and you will feel better too.
Blessings to you, your loved ones, and the people of Ukraine.

"For all Just Ask1 2 3 card decks and Love Is the NewCurrency books ordered here for the month of March, I will donate 15% to CARE.ORG Ukraine from us and offer free shipping to you. Thank you for caring."
What is your favorite charity that you like to support?
Share your response in our Facebook Group here: https://www.facebook.com/groups/694364357797245
---
I'm inviting you to consider new ways to celebrate your love and friendships that will bring joy and an opportunity to experience closer connections.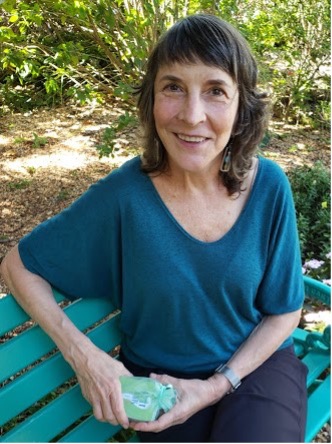 If you really knew me, you'd understand why I am so passionate about the creation of Just Ask 1 2 3. I've always loved introducing people to each other, either in romantic ways or to develop quality friendships. I think most good relationships start with open communication, which is why I came up with and developed 4 different levels of decks with 53 Just Ask 1 2 3 questions in each one.
Every day is a perfect opportunity to express your caring. Here are some great choices that can easily be sent with FREE SHIPPING.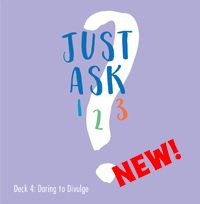 Spark Conversation and Get Connected!
Offers good through end of March.
Each deck only $15.95 FREE SHIPPING on ALL Just Ask 1 2 3 card decks.
Special offers on 3 pack – one of each of first 3 decks or your pick
or 4 pack – 1 of each of all 4 decks (or choose your own assortment)
Please specify. Click here to order online.
Just Ask 1 2 3 card decks make it easier to get to know each other by sharing our stories, experiences, hopes and passions.
Love Is the New Currency book, signed and with a book mark just $16.95 and free shipping!
Love Is the New Currency: Heart-inspiring stories that bring comfort and hope. Buy 3 books and save: Signed by author and with a book mark for $39.95 here.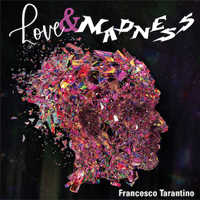 GIFT of MUSIC: Francesco Tarantino, my partner, who wrote and recorded his CD, Love and Madness, shares his relevant song,
"We Are One". LISTEN HERE.
I love hearing from you and appreciate your notes and comments! If you enjoy what you are reading, please share it with other friends by forwarding this blog. Thank you! Linda
---
Please join our FB Just Ask 1 2 3 group here to meet new friends and answer a fun question. You can also visit our FB page for Love is the New Currency here.
---


[ad_2]

Source link