Are you looking for a nice gay dating platform besides Grindr where you have the possibility to find online chats, friendships, a relationship or an exciting adventure with another man? Then consider a membership to Planet Romeo, because there you can post a profile that exactly matches your search and always easily get in touch with men who have the same interests as you.
Why do you choose ROMEO?
For friendship, love and sex
Join groups (and start yourself)
Useful dating apps available
What can you read in this article?
---
Planet Romeo in brief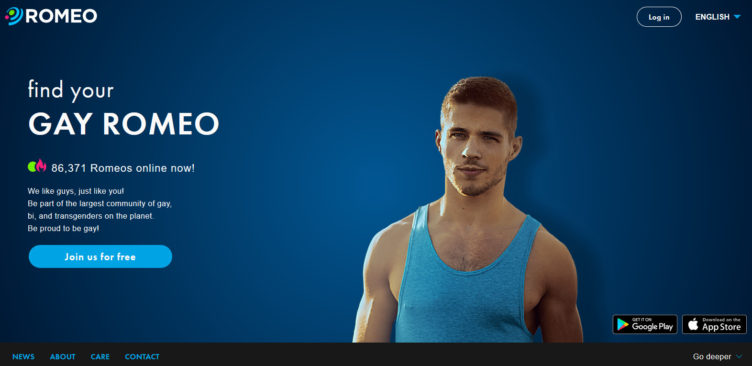 Planet Romeo (also known as Romeo for short) is an online dating site with separate dating apps that allow you as a trans, gay or bi man to look for nice contacts.
The dating site has all kinds of different options to find men that you might be interested in. It is not possible to match automatically, but you can easily find men in your own region, get to know like-minded people through user groups and of course also approach profiles, for example with flirts or a message.
---
Features of Planet Romeo
You can also do a lot with a free membership to Planet Romeo:
You can create your own profile.
Search profiles in all available ways.
It is possible to add profiles to your favorites.
You can share your private photos with someone else three times a day.
You are allowed to send (limited) messages and flirts.
Features with a paid membership Planet Romeo Plus
With a paid premium account (Planet Romeo Plus) you can use the following additional options:
View hardcore sex pictures and explicit photos.
No more ads on the screen.
See more men who have been on your profile.
Easily cover your tracks on other profiles.
Easily save search filters for repeated use.
Send and view private photos without limits.
Save profiles and messages without limits.
Upload unlimited photos to your profile yourself.
---
Subscribe to Planet Romeo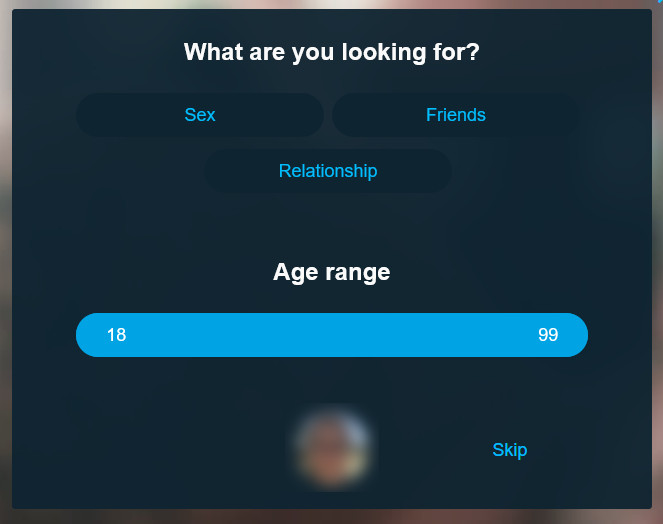 Before you create an account on Planet Romeo, it is good to know that this dating site is available in a limited number of languages. By default, the site is set to English, but you can also use it entirely in German, French, Spanish, Italian and Portuguese. Unfortunately, the site is not yet available in Dutch at the moment. It is also not possible on this gay dating platform to sign up with Facebook, Google or any other external authentication method. That is why we immediately discuss below how you can create a new account and profile at Planet Romeo itself, so that you can log in with it on both the dating site and the associated apps.
Create a new account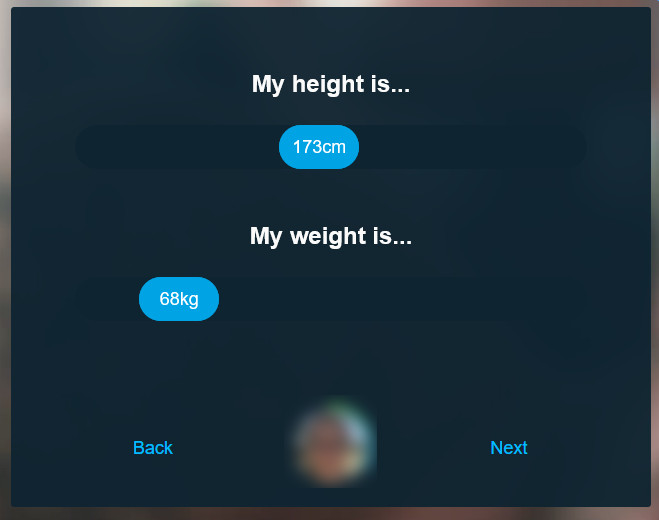 To create an account at Planet Romeo, click on the Join us for free button that you see at the top of the homepage (next to the handsome young man who already looks you very sultry in your eyes). You now have to choose your own username. That must be a unique name that is not already in use by another member. If the name is available, a green check mark will appear next to it and you can continue.
Now you have to successively select your date of birth and set your location. Then enter a valid email address and choose a password. It is also necessary to immediately upload a profile picture, which you can add later with more pictures. Finally, check that you are at least 18 years old and agree to the terms and conditions. Now all you have to do is go to your email inbox and activate your new account.
Complete your profile further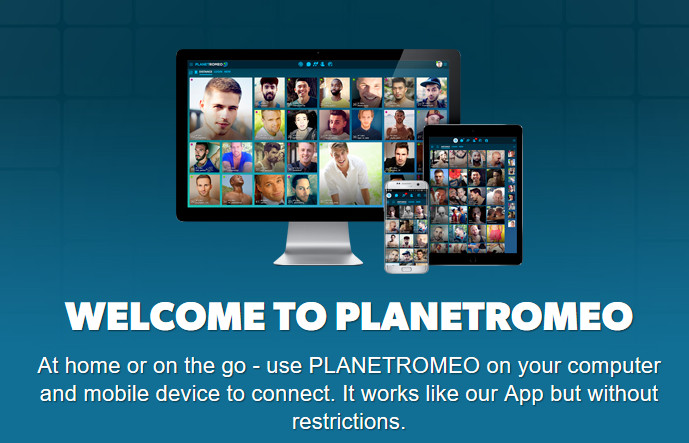 To further complete your profile, you can now go through a number of steps in which you enter more and more information about yourself and the men you want to get to know. For example, select the age of matches with the slider and whether you are looking for love, friendship or just sex. In similarly easy ways you can also enter your body weight and height and how you identify yourself: as gay, bi or trans. Finally, some physical characteristics are asked and you can write a short text about yourself, which is called your headline.
---
Search profiles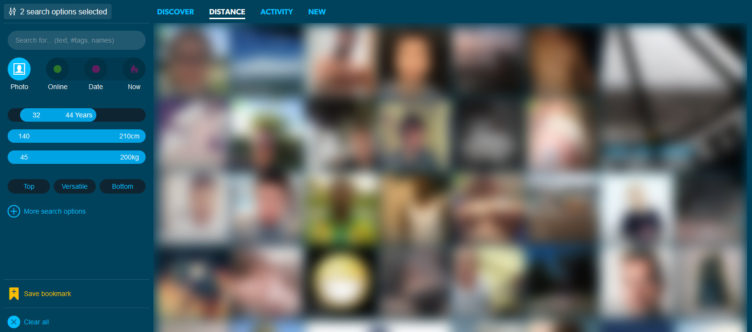 Profiles on Planet Romeo are not hidden in a swipe list but can be found in many different ways, which we will discuss below.
Home (Radar)

On the homepage you will find the radar, the place where you can easily and quickly get a limited overview of profiles that could be of interest to you. For example, you can see some profiles in your region, some men who are now online and a number of groups that have seen a lot of activity lately. You can also see which men will soon be visiting your area and which members have most recently signed up.
Groups
Members on Planet Romeo can create their own groups on a particular topic in order to get in touch with other enthusiasts. These groups are very diverse and there are many. That is why it is best to use the search engine to find the groups that suit you best. Are you interested in a specific group? Then you can usually join immediately with the Join group button. Occasionally you will need to be approved by the group admin, but most of the time you can join right away. For example, by posting a comment yourself or replying to the messages of others.
Travel
With the Travel option you can show that you will soon be in another city or region and that way you can already get in touch with nice local men. With the Add destination button you can search for a location on the world map and see which profiles are there now or in the near future. By also choosing a day and/or time, you show that you will stay in that place yourself. Men who are interested in meeting you can send you a message.
This is what a profile looks like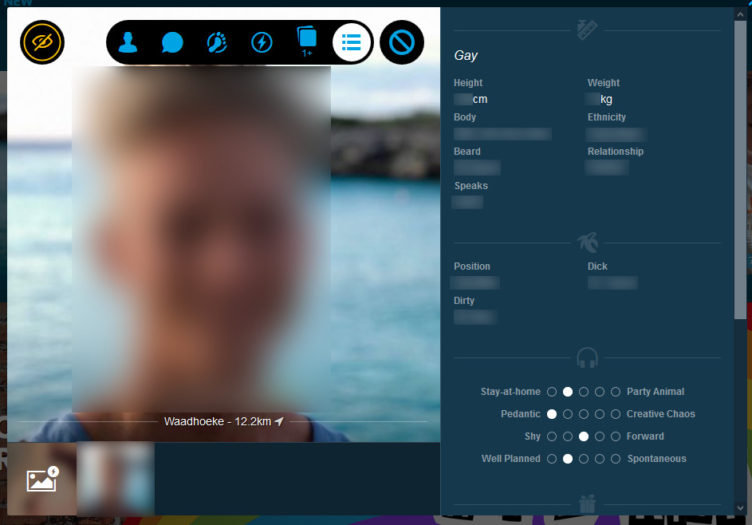 When you click on any profile it will be loaded as a pop-up on the current page. You can immediately see the photos that that member has put on his profile and you can also view all kinds of information about him at a glance. That of course depends on the extent to which a man has indeed entered that information, but fortunately most profiles are well filled.
---
Open the profile that interests you. At the top of the large profile picture, you'll see a bar with several options, including some ways to contact the guy. For example, you can add it to your favorites with the Save user button. You will also see a button with a speech bubble that you can use to send a message. The button with the footprint can be used to send a short flirt in the form of a nice picture with a corresponding slogan, such as "Cool outfit!", "So cuddly" or "Very hot".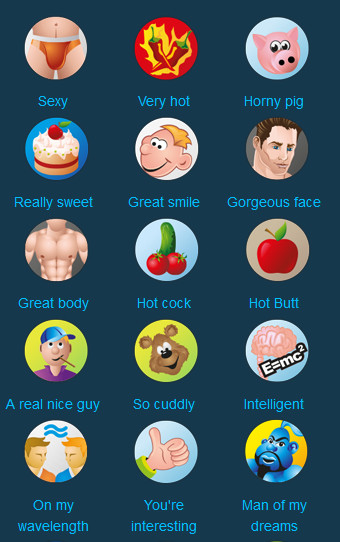 The lightning bolt button is the Quickshare option. With this you can give the member in question access to one of your private photo albums for an hour. You can create and fill those albums via your profile settings. With the button next to it you can request access to someone else's Quickshare albums. Finally, there is also a button to report the member if he seems not to be following the rules.
---
Target group of Planet Romeo
The target group of Planet Romeo consists almost exclusively of men who are looking for men for a friendship chat, relationship or just an exciting meeting.
You must be at least 18 years old to become a member, but otherwise the dating site has no limiting factors. Age, education level, date intent and other things really don't matter. If you feel like a nice meeting with another man you can always join.
---
Planet Romeo Security and Privacy
On PlanetRomeo you decide how much information you want to share with other men and what you do or don't want to share on your profile. However, the disadvantage of not or hardly exposing yourself is that you have to compete with a lot of 'competition' who seem to have no problem with that at all.
With an almost empty profile and/or without a profile picture, you don't have to count on a lot of response. Apart from that, the security of the site seems to be fine and we do not encounter anything crazy in the privacy policy of the site.
---
ROMEO Dating App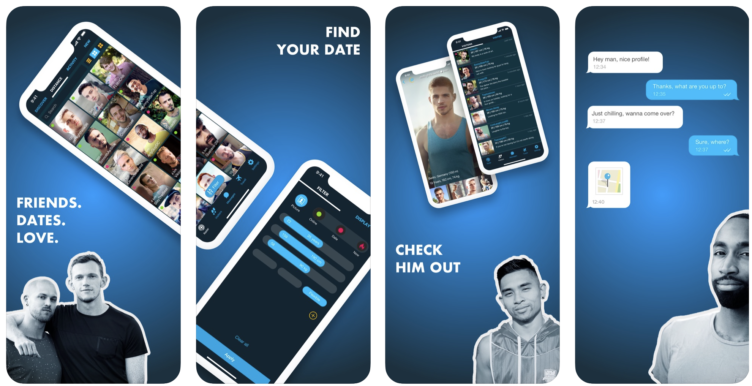 Planet Romeo has developed its own dating apps for both iPhones and Android phones. With these apps you can basically do everything that is possible with the dating site. The biggest advantage of the dating app is that you can use the GPS signal to discover men in your own area. Since you log in with the same account, there is no point in using the dating site and the mobile apps side by side.
---
Fame of Planet Romeo
Planet Romeo is very well known among gay and bi men. Both the dating site and the accompanying apps are very popular, also in the Netherlands. Even though Grindr is still the largest mobile dating app for men, those who also like to choose via a regular dating site can often (also) be found on Planet Romeo. This dating site has a lot of advantages compared to the relatively limited Grindr app. The profiles are very extensive, there are countless ways to discover and connect with other men and additional options such as Travel and the very useful Groups ensure a steady fan base with a steady influx of new members every day. Moreover, it is still very nice to chat with your matches with a real keyboard.
---
Below you will find details about the company behind Planet Romeo and how to get in touch with customer service.
Address data
Planet Romeo is managed by a Dutch company based in Amsterdam. These are the address details:
ROMEO BV
De Ruyterkade 7
1013 AA Amsterdam
The Netherlands
Chamber of Commerce number: 70533512
Phone: unknown
Email: unknown
Help desk and customer service
You can send a question to the Planet Romeo helpdesk by clicking the Contact button. If your question is about your own account and profile, it is best to enter your profile name immediately. Select a topic and type your question. Finally, it is also possible to immediately add an attachment (for example a screenshot).
---
Price of the paid membership Planet Romeo Plus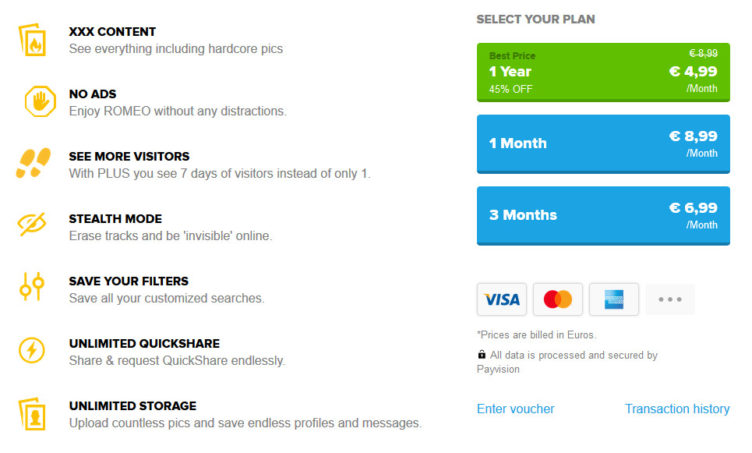 Planet Romeo Plus is the paid membership that allows you to unlock additional features of the dating site (and apps). The membership currently has the following pricing:
The 1-month subscription costs €8.99
The 3-month subscription costs €20.97 (€6.99 per month)
The 12-month subscription costs €59.88 (€4.99 per month)
As a Dutch user it is nice that you can not only pay with popular credit cards, but also with iDeal. If you would like to work as discreetly as possible, it can also be very handy that you can pay with the completely anonymous Paysafecard.
---
Cancel Planet Romeo
To cancel Planet Romeo via the dating site itself, first log in to your own profile and click on your own profile picture at the top right of the screen. In the menu that appears, choose the Edit profile button. Click on Delete under the Account heading. Now all you need to do is enter your password to confirm the deletion. Please note that your profile will be deleted immediately, irrevocably and permanently.
---
Plus & minuses
Pros:
For friendship, love and sex
Join groups (and start yourself)
Useful dating apps available
Cons:
Big emphasis on sex dates
Not available in Dutch (but many NL members)
Check out the best gay dating sites
---
Submit a review for ROMEO