Not disputing that the mentioned tips work, but they are common, and you can get them anywhere. Lucky for you, we will discuss 5 rare writing tips that will get you the attention that you deserve.
10 Uncommon Tips for Writing an Attractive Dating Profile
Are you looking to find a long-term partner or just a fun date? Good for you if you've decided that it's about time to get back out there and meet someone new. What better place to get started than on online dating sites! The online profile that you create is what will determine whether people will contact you or pass.
We are all used to the usual tips: have a stellar profile pic, write a bio that will attract attention, keep it brief.
Not disputing that the mentioned tips work, but they are common, and you can get them anywhere. Lucky for you, we will discuss 5 rare writing tips that will get you the attention that you deserve.
Test to See What Works Best
You can decide to borrow a leaf from successful online market campaigns. To see if their strategies work, they usually test different products and services to see what works and what doesn't. They'll check out numerous platforms observing which one sends the most traffic that is most qualified
You can do the same. Run split testing experiments on your online dating profile too. Do not be shy to change your profile picture to see which one will get more hits. Rework copy to focus on different traits of your personality.
It can also be something about your profile info. For example, you can rearrange your favorite TV series order to see which one catches more attention. Maybe list The Good Fight before The Americans and see what happens.
Be Positive
Negativity is not sexy, and you can take it to the bank. It's astonishing how some people can take their time on their dating profiles to talk about their cynicism, pessimism, or what they don't want.
Such people come off as negative from the get-go and remain single for a long time. It's amusing because the very thing they claim they don't want is what they attract. For instance, a person can say, "drama queens don't apply." The only assumption that people will get from that remark is that you have a load of relationship drama and probably you play a hand in creating it.
With a positive attitude, you will attract the right people. But when it's all said and done, with online dating, it's inevitable that you'll get contacted by the wrong people. That should not be your focus area. Instead, focus your energy on attracting the right people than repelling the wrong ones.
Tell a Story
Yes, we bet you don't hear this every day. Don't just list everything out, no, that's a cliché. The idea is to show your interests and what kind of impact they have on your life. The key to writing your story is to be sincere and vulnerable. These two qualities are what will distinguish your profile from the rest.
On a dating app profile, there is the main text section where you can tell more about yourself. There you can write a personal story whereby you weave in details about your hobbies and personality. It's best to provide as many details as possible. Below are more tips on what to include in this section to make your dating profile more attractive:
A perfect example would be if you enjoy traveling and dancing, you could describe the Zumba class you took on a trip to London. Include all the details of your experience. Did you like it? Is it your typical Friday night hobby? Maybe there was something special about that day? Once you finish describing the experience, make sure that your final line is a memorable one.
Are you the creative type? You can also tell your story in another creative way. Tie your pictures in with your bio statements to present a story in multiple parts. You can also consider using your photos as illustrations of your bio section.
Treat Your Photos Like an Ad Campaign
When a person is going through your profile, they are making snap judgments based on every aspect of your pictures. From wardrobe choices, facial expressions to your posture.
It's important when your photos are natural, but your goal here should be to highlight all of your best features. You want to make sure that you're conveying some aspects about yourself without necessarily coming right out and saying them, just like a perfect company site. It's where you let your picture speak a thousand words for you.
For example, you can display your scuba diving picture. Such a photo tells not only that you are in excellent physical shape; it also shows that you travel and can afford an expensive hobby. In a nutshell, show, don't tell!
Besides your scuba diving picture, have at least three more photos in your lineup that are captivating. Maybe choose one in a yoga class, hiking, or whitewater kayaking. They should be intriguing photos that speak for themselves but reflect your personality at the same time.
PROFILE PICTURE MATTERS
A profile picture is one of the most important parts of your dating profile. Of course, your future match would decide to text you or not mostly depending on your common interest and self-description, but at the same time, they may not open your profile at all, if you don't have any or have a weird profile picture. So, to make your profile picture (and thereafter the whole profile) attractive to other users, follow the next tips:
take a good quality picture
Nowadays it's not that a problem because almost everyone has smartphones with a good quality camera, though you should also make sure that your photo is not too dark or too light, so the person in the picture is visible.
Having several photos on your profile would help users who are looking through your profile to know you a bit better before chatting with you. Make sure your photos are different and even better if they represent the activities you like. For example, you with your dog or with your friends, going hiking or swimming, etc. Try not to post photos with the opposite sex people only, as it might scare your potential match.
make sure the main photo is just you
As it was mentioned before, you can use some photos with your friends, if you want to, but make sure that the main photo of your profile is only about you. A user usually spends only a few seconds to decide if he/she liked you or not, so they don't really want to spend time finding out who is the owner of the profile.
It would be great if photos would differ not only by location and activity but also by various shots. Don't take only close-ups or panoramic photos. Take pictures from different angles and of different sizes that can show all of you.
Don't go too much into details. No one wants to see your naked body before even knowing you. And, by the way, you will be banned. If you don't look for serious relationships, there are plenty of ways to tell about it without showing your genitals to everyone. You can always write about it in your self-description, or, if want things to be even easier, use a new feature on Meetville that allows you to mention who are you looking for.
Update Your Profile Regularly
Finally, it is crucial for you to update your online dating profile regularly if you are going to be in the game for a while. If you happen to take new pictures that are better than previous ones, don't hesitate to change them. Don't stop there, update your experiences and hobbies regularly too. Took a trip to Miami recently? Why shouldn't you include it on your profile? The possibility of attracting someone through adding new and exciting items on your profile is higher than when you don't.
Whatever you do, be sure to keep it alive!
SHOW YOUR GOALS
Being too "straightforward" in online dating is not always a bad thing. It's always better to show your intentions from the beginning. It will give you a perfect opportunity to find a person with similar dating goals and not waste your time on someone unimportant.
FIND SOMETHING DIFFERENT ABOUT YOU
Everyone is unique in their own way, so be proud of it and show it in your dating profile. It will also help you to catch the attention of other singles. And if you think that you are quite ordinary… Well, just tell all the features you like about yourself. Sure enough, a person, who'll be interested in you will see what he needs.
USE YOUR SENSE OF HUMOR (IF YOU HAVE ONE)
Leaving one or two jokes in your bio will only benefit it. Or writing your info in a funny way. This will already tell a lot about you as a person and will significantly increase your chances to be noticed by someone special.
GIVE YOUR MATCHES SOMETHING TO WORK WITH
Having a fun cute bio is great. But it actually worth nothing if you don't leave any useful information in there. Don't forget to mention your hobbies and life interests. If you are looking for something particular in a future partner, you can mention it too. Just remember, the more information you add in your bio, the more perfect match you'll get.
Online dating is no longer seen as the last desperate attempt at finding a partner. On the contrary, 84% of app dating users were doing so with hopes of getting romantic relationships. As you finish, don't forget to check your spelling and grammar. It's the attention and thoughtfulness that you put in your profile that will show and get appreciated. Be frank and authentic. Bear in mind that your purpose is to capture your match instantaneously so that they can contact you. Demonstrate your level of approachability as you blow your own trumpet. When someone goes through your online dating profile, let them say wow! It's all about self-promotion with bits of humanity and tenderness.
Have you tried any one of our tips above? Share your experiences with us in the comments below.
10 Critical Online Dating Profile Tips for Men
How To Make Yourself Irresistible With Women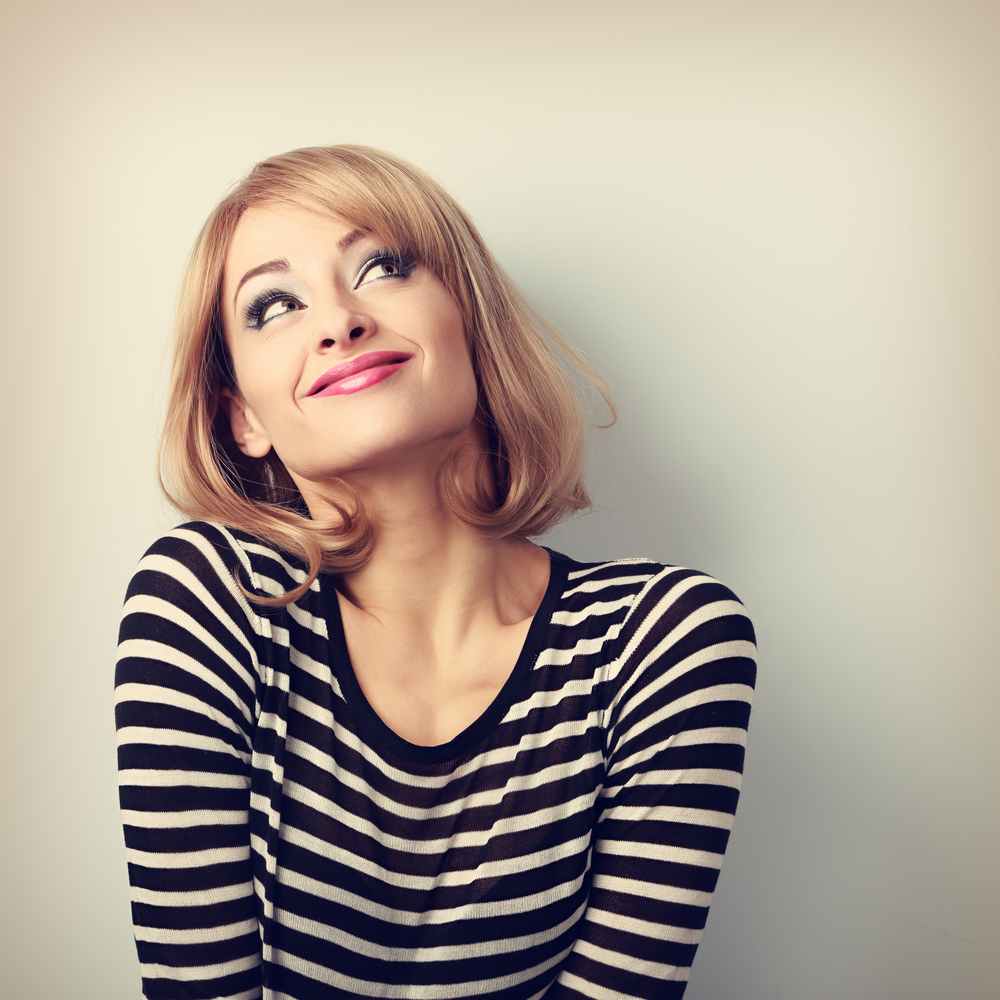 5 Proven Ways To Boost Your Results On Dating Apps
How To Make Yourself Irresistible With Women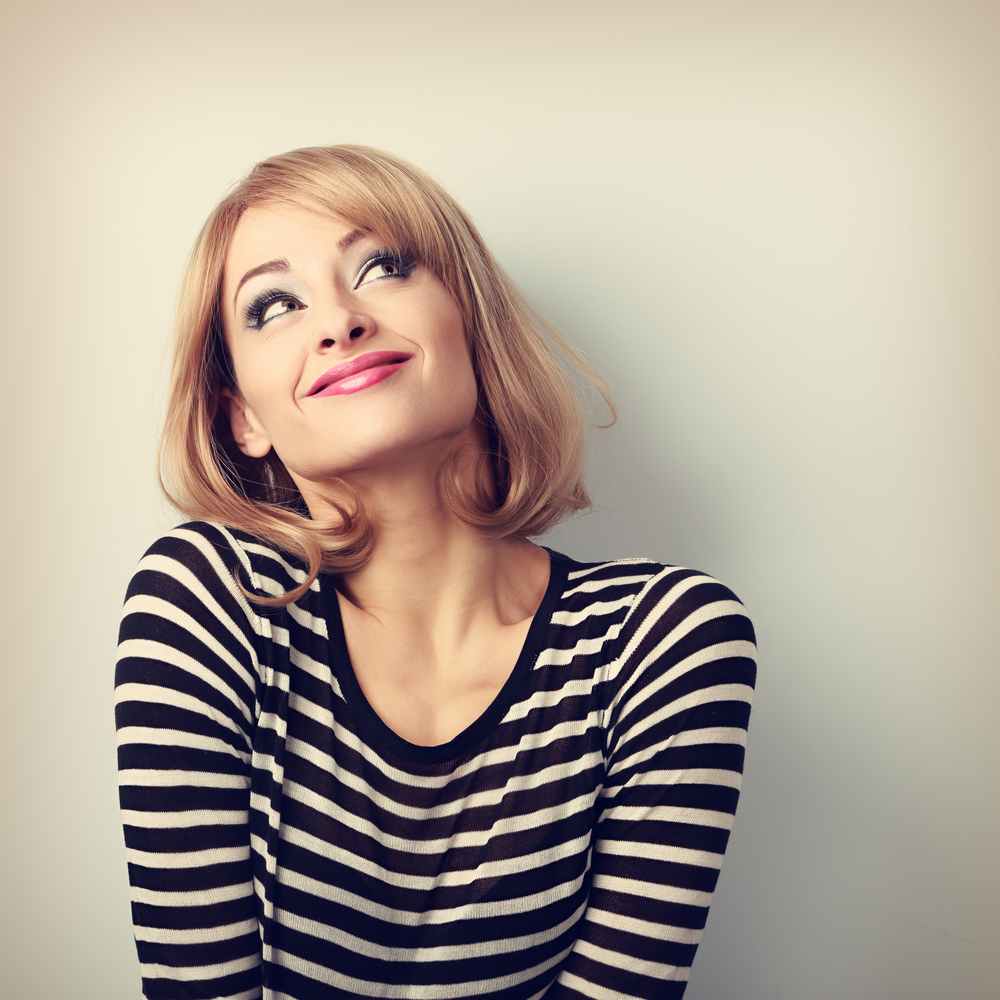 5 Proven Ways To Boost Your Results On Dating Apps
What Are The Best Online Dating Profile Tips For Men
Some of the best online dating profile tips for men include checking your grammar, using diverse photos, and keeping your bio 100% positive. The effort you put into your dating profile shows women how serious you are about meeting someone. You must take time and highlight you're a man worth meeting.
It's not all about your photos, so don't underestimate your complete profile. Hinge found 57% of women said they didn't respond to men's messages because t hey "took a closer look at the person's profile. "
Most men put zero effort into their dating profile or make countless blunders that crush any chance of success. Also, some men have no idea their profile has issues and think their profile is pretty good.
You may think you have an OK profile, but OK doesn't cut. OK means average; what you need is a great dating profile. A profile so good it causes women to start conversations with you like this:

A well-written bio can cause women to message you first!
Follow the 10 dating profile tips below. You'll have an eye-catching dating profile which makes you more appealing to women, increases your response rates, and get dates.
1. Check your grammar.
Good grammar is critical for your success on dating apps. Studies have proven women gravitate towards men of the same education level. The last thing you want is to appear uneducated because of bad grammar.
Spelling mistakes show you're so lazy. You couldn't take a few minutes to give your profile a grammar check, and instead put up a sloppy representation of you. Bad grammar shows you could care less about how you appear.
There is no disputing a profile with bad grammar is the kiss of death. Here are a few facts about how grammar impacts your results on dating sites:
Match.com study revealed 96% of women think grammar is essential.
Zoosk found that spelling errors in your dating profile result in 13% fewer messages from women.
Poor spelling and grammar mistakes are the biggest turnoffs, according to Elite Singles.
An analysis by Grammarly, a proofreading company, revealed that a man with two spelling mistakes in his online profile was 14% less likely to receive a positive response from women viewing his profile.
Do yourself a favor and copy and paste your profile into Microsoft Word or an online grammar tool so you can check for errors. It may make a difference whether a woman contacts you or not.
2. Put some effort into your bio.
Your written bio is the most important piece of your dating profile. One of the top dating profile tips is put effort into your self-summary. It's more important than your photos; Match.com found nearly 70% of women contact you based on this section of your profile alone.
This woman on Tinder sums it up perfectly. You see her frustration with men who write nothing about themselves.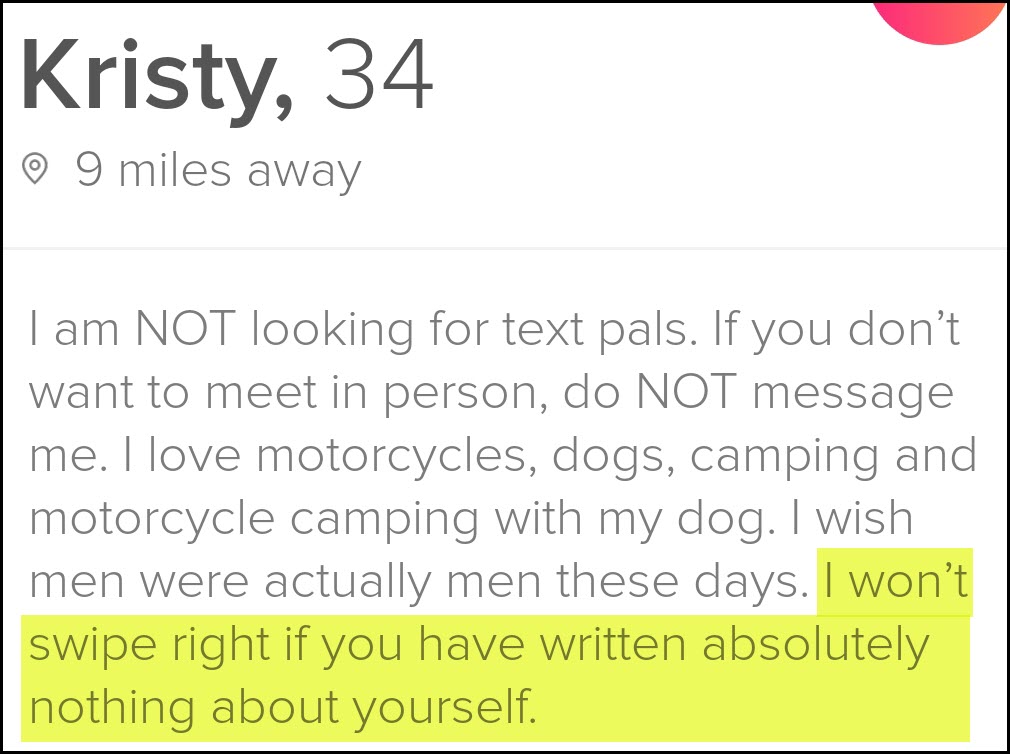 Your results will suffer on dating apps if you write little to nothing in your bio.
Why is it important to put effort into your written bio? Because your self-summary shows women how serious you are about looking for a partner.
A well crafted, funny, informative, confident, witty, yet serious "about me" section has a significant impact on your success. Take some time when doing thing section.
Don't just write "Just ask" or "I'll get back to this later," as so many men do. Take this guy; can you honestly expect women to respond to your messages when you have a bio with zero-depth like this:

A bio like this shows women you aren't serious about online dating.
The guy above only used the word "travel" which is boring. Everybody uses the word "traveling" and leaves it at that. A better approach is adding depth about traveling like this:
"Traveling is my passion. Visiting exotic locations allows me to connect with other cultures and people. You haven't lived until you've gone snorkeling in the Ko Phi Phi Islands in Thailand. Oh, the food is incredible too."
Choose a few of your passions and interests and describe why you like them and how they make you feel. The benefit is a woman may send you a message based on a great description in your bio.

A well-written bio can prompt women to send messages first.
Another huge benefit of a well-written bio is dating sites present your profile to women based on the information you write in it. Below is an example on how OkCupid shows men to women.
In this case, a woman on OkCupid described how she likes traveling and shared she was politically liberal in the questionnaire all members answer when signing up. You see how OkCupid presents her matches based on these settings.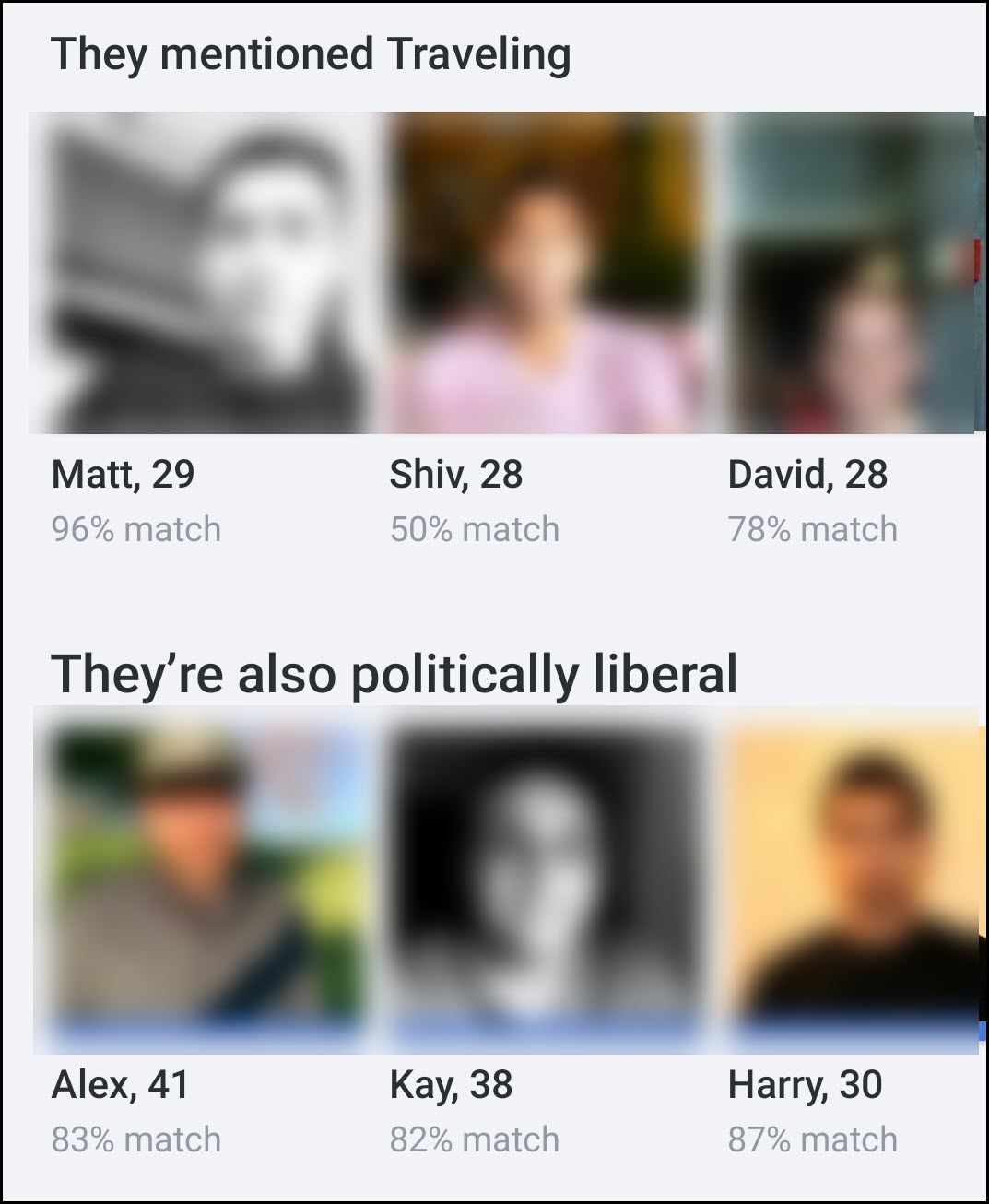 Some dating apps present you to women based on words found in your bio.
OkCupid, and other dating sites do this for whatever you write about in your bio; hiking, pets, wine, travel, etc. The fact dating apps present you to women this way should prompt you to put more effort into your self-summary.
3. Ditch the negativity.
One of the most important dating profile tips is your self-summary must be 100% positive. Plentyoffish found that users with positive identifiers in their profile received 23% more incoming messages.
Your profile shouldn't share how you aren't "looking for games" or "swipe left if you have drama." Below is a profile example from POF; the guy tells women reading his profile to "keep it moving" if they drink, smoke, or need pills to have fun.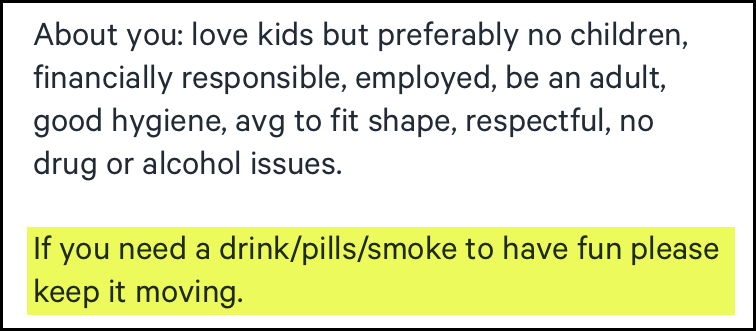 Don't write anything negative on your bio.
Your profile should show your strengths and that you're a man of quality. Too often, men include negative statements on their dating profiles sharing what they aren't looking for on the site.
It's off-putting, distracting, and kills any chance of a connection when you vent about something. Never tell women to stay away for whatever reason. Negativity is an instant attraction killer because you appear jaded.
The correct approach is always to write what you are looking for; do it in a fun and positive fashion. The goal of your profile is to show common interests and put a smile on a woman's face; always remember that.
4. Show some confidence.
Don't start your bio with sentences like "I've been told" or "My friends say." These phrases make it appear as if you're hiding behind someone's description of you. You're a man, own up to who you are.
Take this guy below who starts out sharing how talking about himself isn't one of his "favorite subjects." Nobody likes describing themselves, but it's something we all do. This introduction doesn't show humbleness; it shows he's insecure.

Starting your bio like this shows a lack of confidence.
A better approach is coming out of the gates exuding confidence. I'd start my profile like this; "I'm a charming, educated, active, devastatingly handsome man who is looking for a relationship." That's confidence and women react to it more than an insecure statement like the one above.
Another tip is to avoid using words that show a lack of confidence in your bio. These words include:
Anytime you choose to use one of these words, read the sentence out loud. You'll hear how passive the sentence sounds. Take the guy below, I want to pull my hair out when I see men write things like this on their bio because it's so non-confident.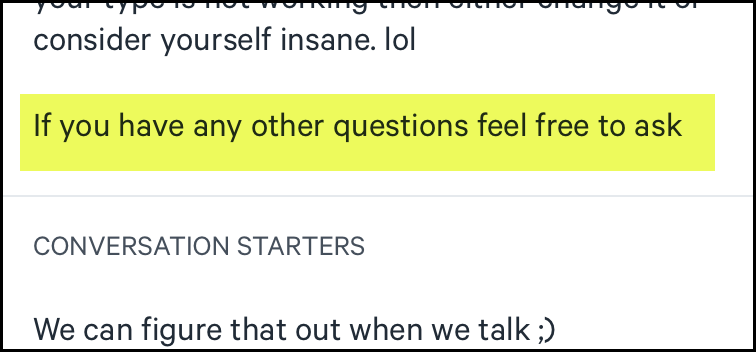 Avoid words like "if" on your bio; always assume women will contact you.
Also, you must exude confidence in your photos. Confident people sit up straight and stand tall. If your sitting down in a photo push your chest out.
Here are a few ways to show confidence in your photos:
No slouching
No hunching over
Keep your head up
Stand tall and stand proud
Smile
Raise your arms up (optional)
5. Have a diverse photo portfolio.
Your profile must have various photos. Car selfies and pictures taken around your home won't land you many dates.
OkCupid found, "People who have pictures of themselves doing something interesting have a 40% higher chance of receiving more messages." What this means is do something fun; hiking, wine tasting, playing sports in a recreation league, chasing your dog at the park, traveling, etc.
Hinge found sports photos get a significant amount of likes. You're 45% more likely to get a like on sports-related photos than the average pic.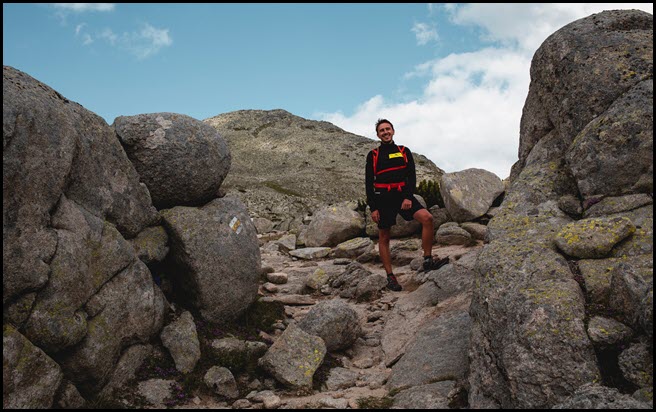 Profile tip: Get outside and do something active!
Lastly, smile in your photos. It's the first thing women look at in your picture. A smile works wonders; according to Match.com, 71% of women judge a man by his teeth, so flash those choppers.
The key is a natural, free-flowing smile. A smile signals kindness, friendliness, and means your approachable.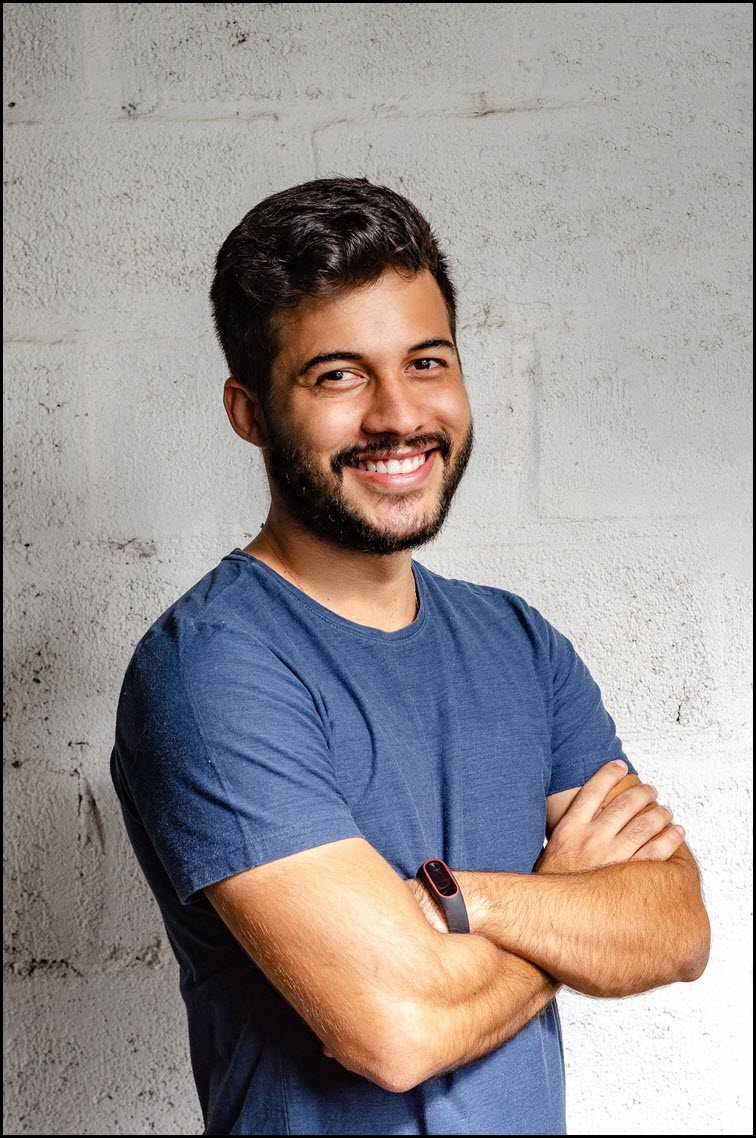 The first thing women look at in your photo is your smile.
6. Keep your profile consistently fresh!
One of the dating profile tips most men ignore is changing your profile every few weeks; and at least once a month. Updating your profile with new photos or swapping out stuff in your self-summary keeps it fresh and current.
Updating your profile also increases the likelihood a woman, who overlooked you in the past, contacts you because of something new you added to your bio. Keep your profile in line with the time of year.
If it's summer, write about your summer tips and use photos from your travels. Maybe you found some new hidden restaurant or hiking trail in your city, write about it on your bio. Add a picture of yourself on a trail you hiked.
If it's winter, share photos of yourself doing whatever it is you do during that time of the year; for example, skiing. The point is you're giving women a picture of your lifestyle at that moment.
I see mistakes all the time where guys use Christmas photos in July or Halloween photos in April. Most guys put up a profile and never change it, which is a huge mistake.
Your profile gets stale if you leave it as is. You never know the impact a new photo or tweak to your self-summary can make on women.
7. Check for red flags.
I mentioned earlier that you should avoid negativity, but there are other red flags you might overlook on your dating profile. Take this guy on Match.com; he's 40 years old, and his age range is 21-36.
A gigantic age gap is a huge red flag to women looking at his bio. Believe me; women look at everything on your dating profile. Nothing screams "creepy" like a 40-year-old man who has a 21-year-old as his low-end date range.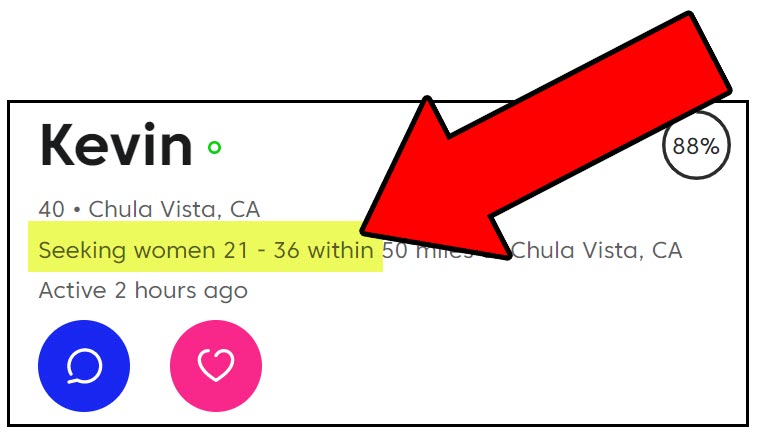 An age gap this wide is a huge red flag to women.
Remember this; everything on your profile is fair game. Women go through your bio with a fine-toothed comb for the following reasons:
​Women want to make sure you're an actual match.
Women want to feel safe and sure you aren't a creep.
Look at the photo below from OkCupid. The guy shares he's looking for basically every type of relationship; long-term dating, a short-term dating, friends, and hookups.
This selection of every type of relationship is another red flag with women. I can guarantee you this guy does poorly and is probably not aware he selected all the options on his relationship setting.
Women who want a relationship will not waste their time with a guy looking for hookups.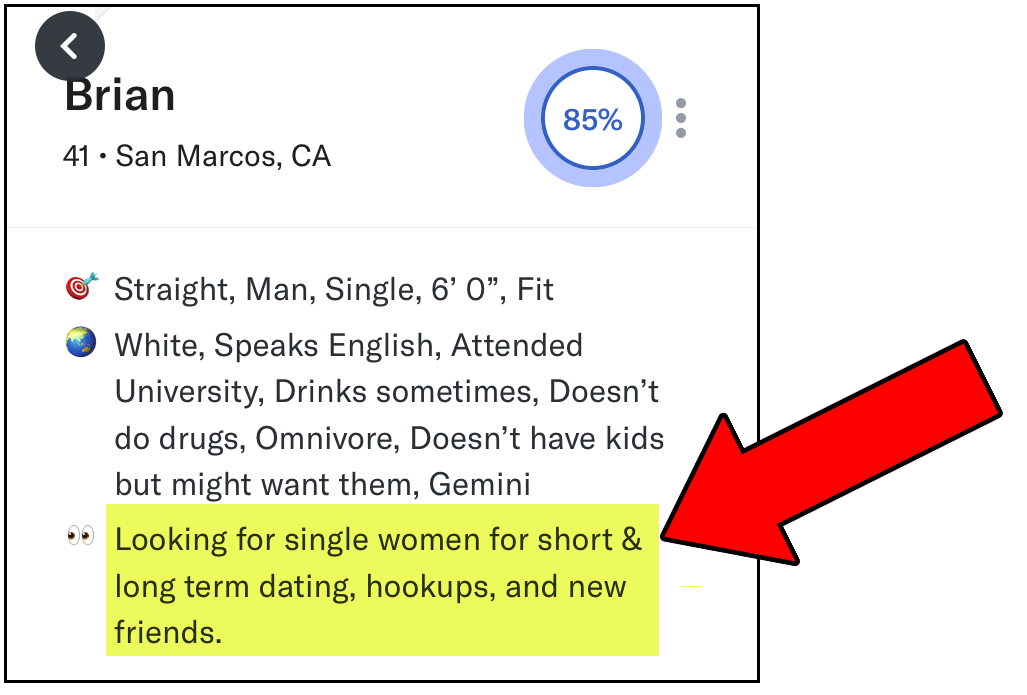 Pay attention to your answers to questions on dating apps.
8. Show you're available.
You must show women you're open to a relationship; meaning you have time for one. An experiment examined what matters more on dating profiles to women; attractiveness or emotional availability.
When given a choice between a sexy but emotionally unavailable man or someone who is less attractive but appears caring and emotionally responsive, women preferred the more emotionally available person.
Don't write how many hours you work, how you are always busy but will make time for someone, or how you're "career-driven" and "focusing on your business" right now.
You're on a dating site because you're looking for a long-term relationship, not a job nor a distraction from work. Showing you're emotionally available is easy.
Write on your bio how you are "active and love cooking healthy meals" and are "looking for a woman who enjoys the outdoors and maintaining a healthy lifestyle as well." It show's your open to letting someone into your life, which is what women want to see on your profile in the first place.
9. Join multiple dating apps.
I am a huge proponent of joining multiple dating apps when looking for a relationship. You don't want to put all your eggs in one basket; joining multiple dating apps exposes you to more potential matches.
However, don't join more than two dating apps. Being a member of three dating apps is too much work and overwhelming. Two is perfect.
I recommend joining a site such as Match.com, OkCupid, POF, Jdate, Zoosk, and then use an app as your second; Bumble, Hinge, Coffee Meets Bagel, Tinder.
The key for this working is making sure you know what you want. If you mindlessly swipe right on every woman's profile, you may end up overwhelmed even on one dating app.
Only join multiple apps if you know what you want and plan on sticking to it. Too often men see a hot girl, and all bets are off. They forget why they joined a site and try to talk to every hot woman they come across.
10. Show you're not a creep.
The most critical dating profile tip is showing you're normal. Women have a huge pool of men to choose from, so it's critical you show you're not a creep. Your bio must show you're a positive guy, with varied interests, employed, stable (no negativity), have a warm, welcoming smile, and sane.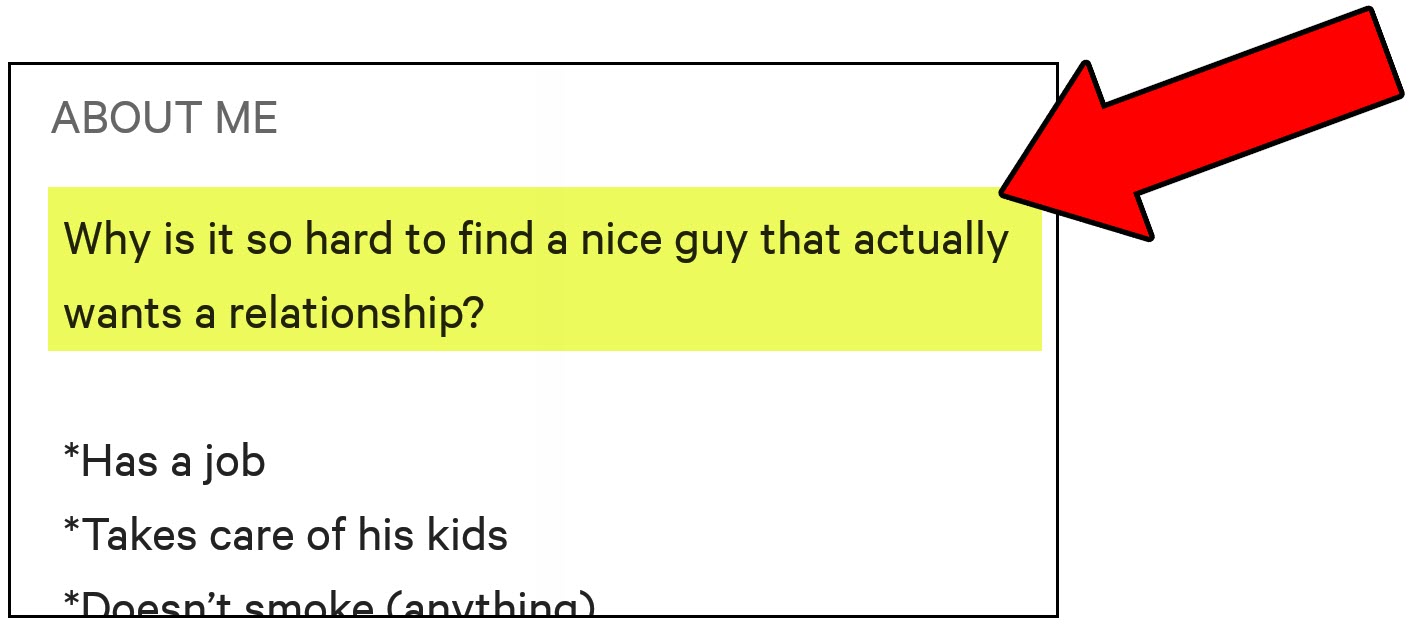 Saying you're a nice guy and pleading for attention is the ultimate turnoff with women.
Final Thoughts
Creating a good dating profile isn't difficult. Your goal is showing women you're normal, fun, have varied interest, a man of quality, and worth meeting.
Follow these dating profile tips in mind as you create your profile. These tips will certainly give you an edge over men who put zero effort into their bio.
Check your grammar.
Put some effort into your bio.
Ditch the negativity.
Show some confidence.
Have a diverse photo portfolio.
Keep your profile consistently fresh!
Check for red flags.
Show you're available.
Join multiple dating apps.
Show you're not a creep.
Follow the dating profile tips above, and you'll stand out because the majority of men don't know what they're doing or simply don't care.
Profiled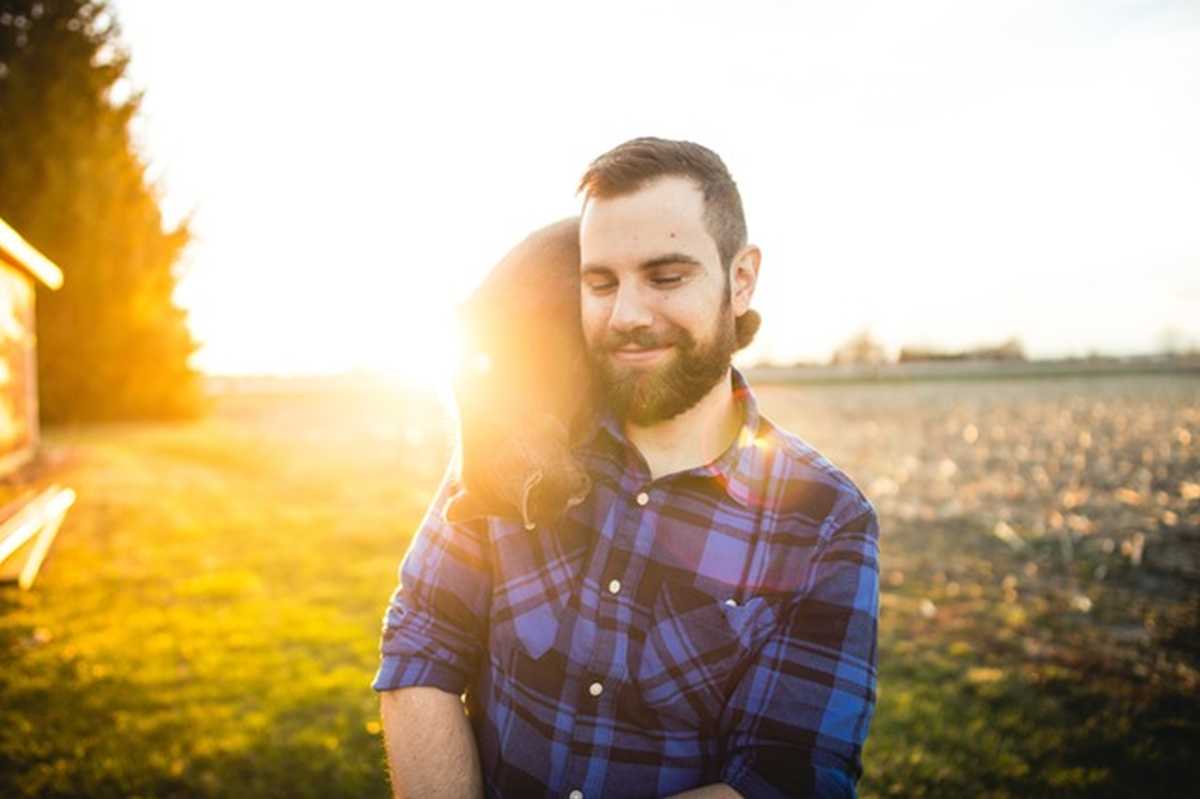 People's impressions of your attractiveness can vary *a lot* depending on the particular photo they're looking at.
In fact, it's quite common on Photofeeler for a single person to test lots of different photos of themselves and receive a wide range of "Attractive" scores.
In case you're looking to maximize your attractiveness in photos, here's what we know are some of the key differences between pics of the same person with low and high Attractive ratings.
Differences Between Photos (of the Same Person) with Low and High Attractive Scores
Goofy Poses vs. Genuine Smiles
All images used with permission.
A user's progression from low Attractive scores to high often goes something like this: goofy smirk and peace signs… tongue out… holding a funny object… simple, genuine smile. Boom! The smile always wins, people. It's almost comical just how predictable this pattern is.
The explanation is also simple. You want to show potential dates the fun side of your personality. The problem is that these potential dates know literally nothing about you yet and haven't yet done the simplest filtering there is: Is this guy/gal crazy or sane?
So priority #1 for any dating profile should be to project sanity. That's it. You give a simple smile, which signals to potential suitors that you are just a harmless, regular person.
Now, sure, if you ask people outright, they will probably tell you that they would like to see a bit of personality in dating profiles. But what they truly find attractive according to our data contradicts this. So instead of following this misguided advice, shoot for "Hey, look, I'm normal," and use the dates to show your goofy side.
Artificial Light vs. Natural Light
This one is so overwhelmingly consistent that I want to shout from the rooftops, "Stop taking pictures of yourself that aren't in natural daylight!"
It doesn't matter how good your hair or muscles look in that pic of you at the nightclub or — even worse, much worse — in front of your bathroom mirror. Your impression will never, ever transcend the harm of that artificial light which casts a creepy vibe over the whole picture and/or adds several years of age to your face.
If there's one thing you take away from this, let it be this one. It will not fail you.
At Home vs. Out In the World
The next tip is to take your photo somewhere other than your home. Popular choices include on a backpacking trip, in front of a mountain or pond, on a boat, in front of city architecture, or at an outdoors restaurant.
The reasons why this sort of photo outperforms one taken at home are surely numerous, but I'd like to offer two simple explanations.
First off, taking a photo someplace other than your bedroom or bathroom insinuates that you might be someone who does interesting activities.
Second, and this applies especially to heterosexual men: a photo of someone in a bedroom or bathroom is very intimate in nature, and this intimacy can come across as being forward or even aggressive. Some women might describe the feeling they get looking at a picture like this as "creepy," because they're psychologically being "put into" an intimate situation with a man they do not know. Photos taken outside of the home — on vacation, on a hike, in a city square — more closely mimic the way a woman is likely to interact with a stranger, so they're less likely to set off alarms.
Bonus (And Perhaps More Obvious) Tips
Finally, some quick bonus tips to rack up extra Attractive points:
As much as we hate to say it, subtle cleavage can have a very powerful effect on a woman's Attractive score. This need not be overdone, as it's possible for a tasteful hint of cleavage to add Attractive points without harming Smart or Trustworthy measures.
Also note that gaining Attractive points is a more straightforward process for men than women. While men can often make changes like those outlined above to great effect, women may have to experiment more with subtle changes in angles, as high Attractive scores for women often come down to choosing the angle that makes a face look its most conventionally attractive.
Know for certain how you're coming across in pictures with Photofeeler. It's free to use here. 🙌
9 Tips For Writing A Good Online Dating Profile
The search for a match via legit mail order brides sites has long been established as the fastest and easiest way for singles to meet new people. Since online, you meet people you might never have met in real life.
Questions that are heard again and again: "How successful is online dating?", "How to write an effective profile for online dating?" or "What online dating can bring?". Numerous success stories show that great love is sometimes just a click away. However, so that you really attract a princess, your own profile should be creative and appealing. A little effort is required here! By having a complete profile, the chances of being contacted are higher. Here are some suggestions so that your profile truly represents all that you have to offer.
1. Be authentic
Tell a story about yourself that will help women understand who you are and what you are looking for. Your profile is only the starting point, and by using a maximum of 50-100 words, you have to attract the attention of ladies. It is better to create curiosity and expectation as well as to make others want to ask you questions.
2. Choose a catchy profile name
Your profile name, along with your profile photo, are the two elements that will give a first impression of who you are. Your profile name must be original and attract attention because the objective is to make people want to read your profile. Don't hesitate to add a touch of humour to it.
3. Write an original intro
The first line of your profile should make women want to read your description until the end. Avoid writing the same thing as everyone else ("My name is Steven, I'm 30 years old, and I live in NY"). You can, for example, write something like "Steven from NY on the way to a perfect bride."
The first sentence is intriguing and raises a number of questions. Ladies want to keep reading to find the answer. If you have blank page syndrome, choose a phrase from a song, book, or movie you love.
4. Write a short online dating profile
The too-long online dating profile for a man can be boring and even tedious to read. On the other hand, if your profile is short, the other person will have more desire to read it in full. The idea is not to tell your whole life but to pique the women's curiosity and make them willing to write to you to learn more about you.
5. Focus on what makes you unique
To be noticed, check out several profiles before writing your own, see what people are saying, and don't say the same thing! You will notice that almost everyone likes to travel or spend an evening with friends.
Put aside what you have in common with many other people to focus on what makes you YOU. Maybe you speak another language, have unusual interests or skills. Even the little things count; perhaps you are addicted to olives, or you love vintage clothes. This can intrigue others and give them ideas to get in touch with you.
6. Talk about your social activities
Don't just talk about what you enjoy doing at home alone (reading, listening to music, etc.) but highlight the activities you do outdoors, with other people or in public (concerts, exhibitions, sport, etc.).
Women need to understand what type of activities they can share with you. If you are more of an introvert, do not hesitate to say it without mentioning only the activities that you enjoy doing alone.
7. Describe the person you are looking for in your own words
A single lady who reads and appreciates your profile will know if she could match you. When describing the ideal girl for you, say what you are looking for in her respectfully and realistically. Don't be too difficult or demanding. For example, you can list the characteristics of the person you are looking for on a sheet of paper and then highlight the two or three that are most important to you and include only them in your profile.
8. Update the profile regularly
How to write an online dating profile that works? It will allow you to describe your true personality. Hence, it is advisable to update it regularly so that it faithfully represents your character. This will show other users that you are still active and really looking for a suitable person. Do not hesitate to complete your interests, and to reveal yourself, and this will surely attract the attention of more members. One of the keys to the success in online dating is to maintain your profile and complete it with honesty.
9. Choose the right photo
For each meeting, whether it takes place in real life or online, the first impression is essential. Do you want to know how to write an online dating profile for a woman or a man? A really effective profile for online dating must reflect a personality, and this also involves choosing the profile photo that must be as recent as possible.
The ideal is a profile photo that represents you faithfully and pleasantly. If possible, favor a portrait photo: these are more successful than the others. Also, the attractiveness of a photo increases if you look straight at the lens with a smile.
To go further, it is interesting to know the fact that an extroverted appearance increases the chances of a successful relationship. In addition, photos of men where they look serious are more successful among women. Men seem more attractive when they look sincere and outgoing.
Finally, if the profile is visited a good number of times, but the messages are not as numerous as expected, the profile photo may be the reason. In this case, it is best to change it and observe the results in order to identify the problem.
Final Thoughts
The success of your future relationships depends in part on the quality of your online dating profile. So be sure to complete it as honestly as possible, while showing off in the best possible light!
If you wish to have a stellar online dating profile, you can provide other members with list hobbies you can do with others. Also, choose your profile photo carefully. Put yourself in the spotlight, but do not bend, just focus on the feature that you find most attractive about yourself. Don't overdo it with filters! Always remember that you want to meet in reality.
Be creative, a little bit self-deprecating and humorous in your text. But be careful and don't overdo it.
In order to make your online dating profile attractive and interesting, you can give a snapshot of who you are and what you are looking for in the relationships. Don't forget to describe yourself in detail, mentioning your interests, hobbies, and activities. And, of course, the profile photo is your visit card. Choose a fabulous one.
The best thing is that you appear alone and that your face is clearly visible, better without glasses! Make sure the photos are recent and reflect on how you really are.
Dating Tips: Make Your Dating App Profile Attractive With These Tips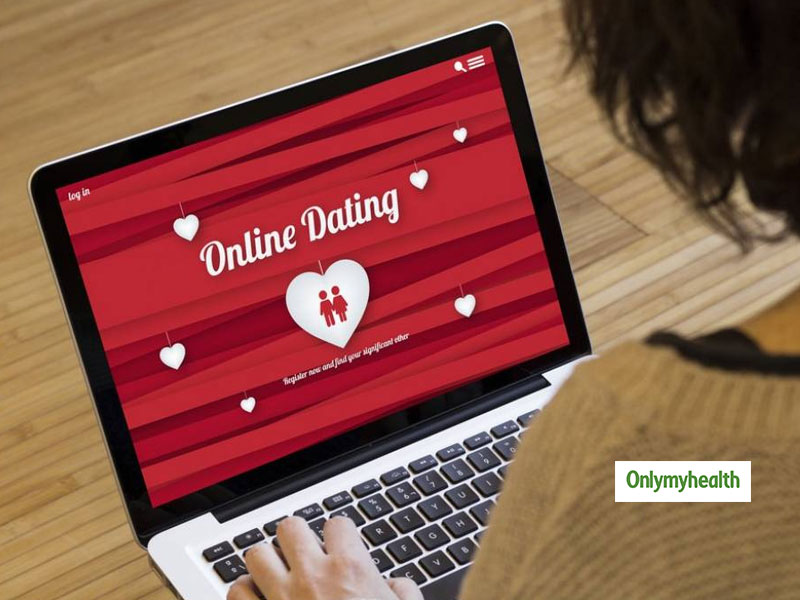 If you are planning to make your profile on an online dating app, here are some tips to consider.

Dating Written by: Gandharv Gulati Published at: Oct 02, 2020
These days, dating apps are very popular. Stuck in busy lives, people are unable to socialize and meet old friends, let alone find someone to date. Many of you would agree with this. There is no harm in using dating apps but you should be aware of its pros and cons. You may find both true and fake people on these apps therefore, beware and use your conscience. If you are someone who is a total beginner in this section, here are some tips to make your dating app profile attractive.
How to make an online dating profile attractive?
1. Choose your profile picture wisely
The first thing that would interest someone in your profile is your profile picture or display picture. Thus, you should choose the picture wisely. This would sum up your profile and as those who would look should get an overall idea of how you look by looking at your photo. Therefore, use clear pictures where your entire face can be seen properly. Do not put a blurred photo or in which your face is hidden or half-visible. If you are taking this decision for a rebound relationship, be careful.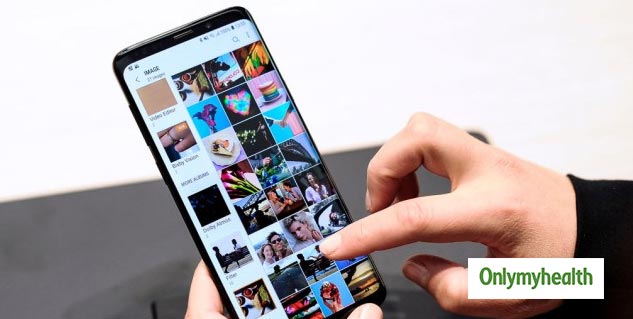 2. Make your profile look attractive and authentic
Take advantage of all the options that your app has provided. For example, if you can upload 8 photos, utilize it. If you have the option to verify your account, do it as well. Never miss an opportunity that your app is offering you. Also, answer all the questions. This makes your account look authentic and interactive.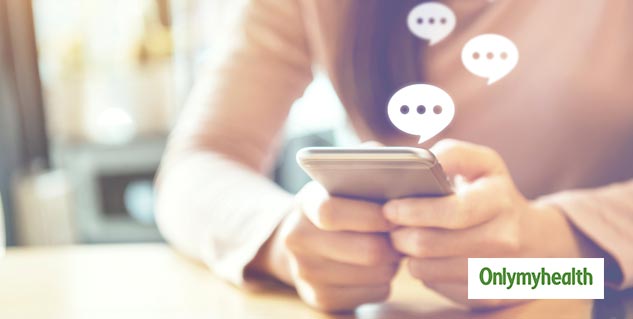 3. Consider the 'About Me' section
The about me section is very important. Do not leave it blank or put something that looks stupid. Search the internet for some good content ideas for this section. For example, instead of just mentioning about your profession and hobbies, add a nice quote or saying to make yourself look mature and sensible.
4. Description should be crisp and real
Write a short paragraph about yourself. Give a brief description of who you are and what you are looking for in your partner. It should brief about your personality and nature. Avoid adding unnecessary information in the section as the more the lines, the more desperate you'd sound. Thus, keep the description crisp and real.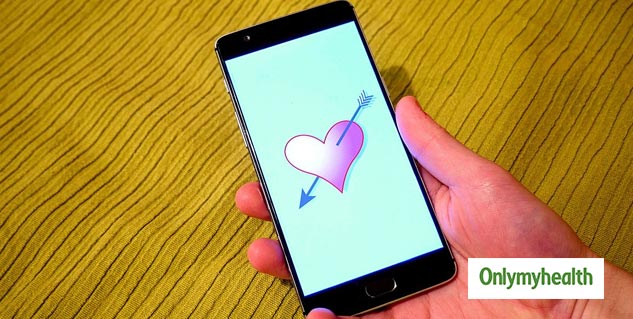 5. Honesty is very important
To find your partner on an online dating app, it can be more enticing than the actual truth. You are honest about your life rather than being right. This would help in finding your true love through the dating application(if you are really looking for a serious relationship). If you are doing this just for a casual friendship or dating, then also being honest is good. Truthfulness is a quality that most people adore. You may not know that you might find a perfect match for the rest of your life. So, if you maintain your online dating app in this way, you will easily find a good and true partner.
Read More Articles in Dating