Last Updated on December 23, 2021 by Soumya
Looking for the best Mayan ruins near Cancun? Wondering where the best Cancun pyramids are? Well, we have you sorted because here is the best Cancun ruins guide for you.
Cancun, one of the most visited places on Mexico's Yucatan Peninsula, is well-known for its white sand beaches and turquoise blue waters. But did you know that the city is a paradise for history seekers too?
With an umpteen number of Mexican ruins and Mayan pyramids nearby, some right in the heart of the Hotel Zone, Cancun makes for the perfect historical getaway.
Whether it is a longish day trip to the mighty Chichen Itza or a short one to the lesser-known El Rey ruins, Cancun presents us with a ton of opportunities. You have an option of checking out famous sites such as Tulum and Coba but you also have an option to visit hidden gems such as El Meco and San Miguelito. The best part being some of these stunning Mayan ruins are located right next to your Cancun hotel.
In this epic travel guide, I will show you how to visit the best Mayan temples near Cancun, check out stunning Mexican pyramids with intriguing history and picturesque locations, and (maybe) climb some of them.
Quick links for visiting Mayan ruins near Cancun
The 3 most popular Mayan ruins that travelers visit from Cancun are Tulum (for its picturesque location by the sea), Coba (for its location within jungles and presence of carved stelae), and of course Chichen Itza (for its World Wonder status).
Tours are a popular way to get to these ruins. If you are looking to quickly book a tour, check out these amazing guided tours from Cancun – all of which have great reviews.
Note that most tours don't include entrance fees in their basic package. Be sure to check that when you book your tour.
Please note: This post may contain affiliate links which means I may earn a commission if you make a purchase by clicking a link on this post. This will be at no additional cost to you. Affiliate links help me keep this website up and running. Thanks for your support!
12 Best Mayan ruins to visit near Cancun
Chichen Itza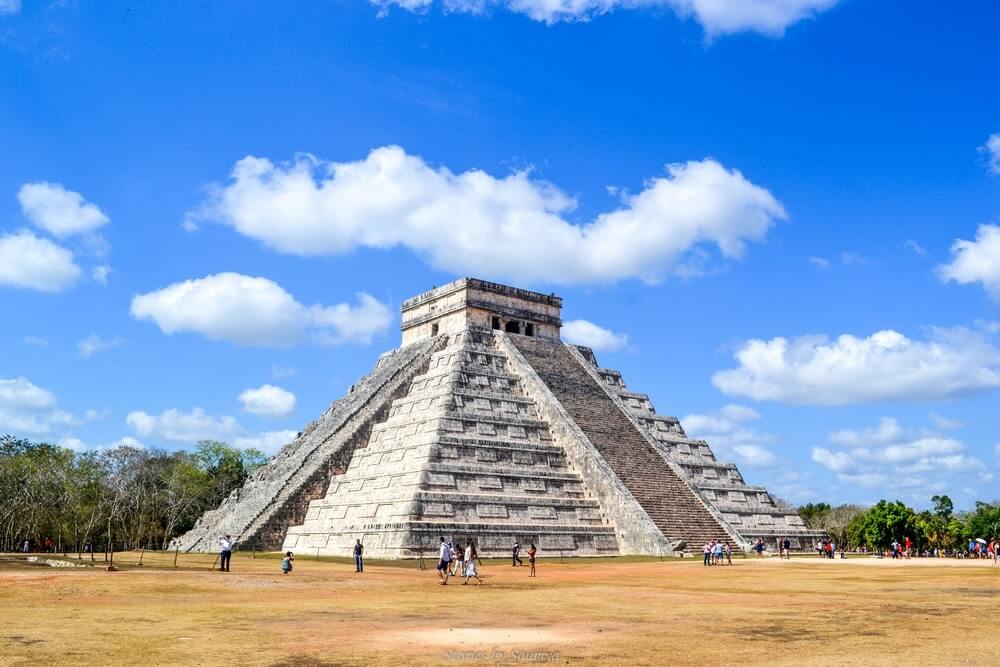 Distance from Cancun: 123 miles (2hrs 45mins)
Opening hours: Monday – Sunday, 8am – 4pm
Admission: 533 pesos (foreigners)/ 237 pesos (Mexican citizens)
There is nothing that beats the thrill of visiting Chichen Itza, a World Wonder and one of Mexico's most visited UNESCO heritage sites. Even if it is a little crowded and a longish day trip from Cancun.
The name Chichen Itza literally translates to "the edge of the well where the wise men of the Itza group live". Itza were people of the ancient Mayan civilization who became powerful in the Postclassic period, coinciding with the time of rise of Chichen Itza. And of course, the well refers to the sacred cenote at Chichen Itza that you can still see.
The most important structure at Chichen Itza is the Temple of Kukulcan, a 4-sided pyramid with a shrine on the top. Legend has it that every year Mayan Serpent God, Kukulkan, descends on this pyramid. Well, this does happen in reality – a mix of science, mythology, and religion. Learn more about it in my post on "Intriguing facts about Chichen Itza".
Other interesting structures include the Temple of Warriors, the Great Ball Court, a Wall of Skulls, and the rounded observatory.
Best time to visit Chichen Itza is early in the morning when there are fewer people around. For example, this early-access guided tour gives you a chance to explore the ruins in peace.
Here are some other popular tours from Cancun.
This full-day tour takes you to the ruins of Chichen Itza, an underground cenote, and the colorful town of Valladolid.
On this guided tour, you will explore Chichen Itza, swim at Ik Kil Cenote, and enjoy lunch in a traditional setting.
Plan your trip with this ultimate Chichen Itza travel guide.
Tulum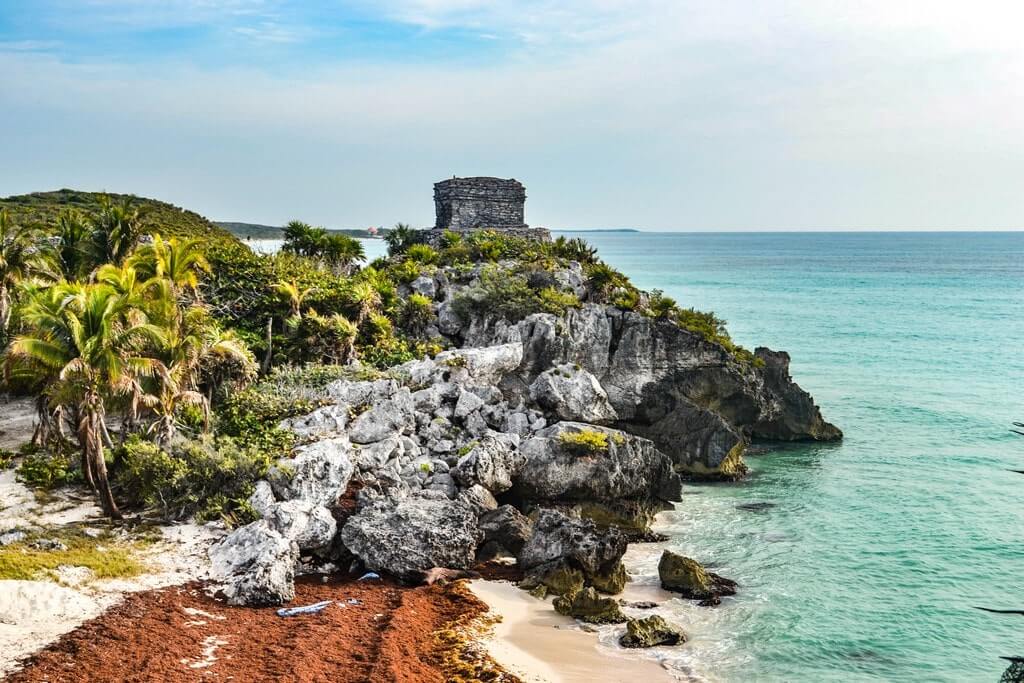 Distance from Cancun: 82 miles (1hr 45mins)
Opening hours: Monday – Sunday, 9am – 5pm
Admission: 80 pesos
One of the most visited Mayan ruins near Cancun is the archaeological site of Tulum. Located on a cliff by the Caribbean Sea, Tulum ruins make for a picturesque sight.
As evidenced by its location, Tulum was a port city during the Mayan times. It was established as early as 500 AD but became a prosperous trading hub and reached its zenith in the Late Postclassic period. It was during this time that several important buildings were built in Tulum.
The most notable structure here is the main pyramid or the El Castillo which is home to a temple that could have been used as a lighthouse, Temple of the Descending God, and the beautiful Temple of Frescoes (which still has intact pre-Hispanic Mayan murals).
Day trips to Tulum from Cancun like this and this are pretty common and convenient.
Also read: Ultimate guide to visiting Tulum ruins.
Coba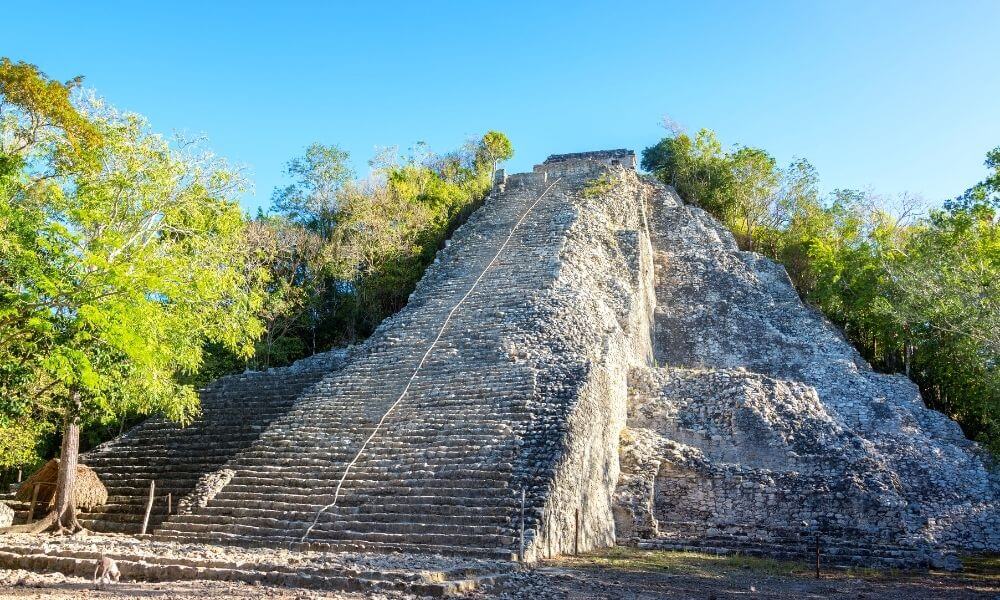 Distance from Cancun: 83 miles (2hrs 10mins)
Opening hours: Update – The site is closed for maintenance as of Dec 2021. Please check their official page before visiting.
Coba is yet another iconic Mayan ruin that cannot be missed when in Cancun. It was a powerful Mayan center in the olden times and dominated the Yucatan Peninsula between 600 -900 AD. There was a time when more than 50,000 residents lived in this huge city. Coba's might started weaning off when Chichen Itza rose to power in the Postclassic period.
Research suggests that people started settling in Coba as early as 100 BC. The city developed around five lakes which was a major reason it continued to grow. Did you know that Coba is actually the original Mayan name of this city? And that it literally translates to ruffled waters? Waters and Coba – I see the connection.
One of the most interesting things that you will see in Coba is its collection of Sacbe or white stone and plaster roads. Since the city was a powerful center and literally the hub of all activity, people from smaller towns came to Coba for work and trade. There are more than 50 sacbeob (plural for sacbe) in Coba radiating in different directions. The longest one takes you as far as Yaxuna which is 80 miles to the west.
Apart from the sacbe, other highlights at Coba include the tall Nohoch Mul Pyramid, a church, Pyramid of the Painted Lintel, and several sculpted stelae that give us rich insights into life, rituals, dresses, and ceremonies at Coba.
The ruins of Coba and Tulum are just 30 miles apart. Hence, they can be easily combined on a day trip like this from Cancun.
El Rey
Distance from Cancun: 16 miles (30 mins)
Opening hours: Monday – Sunday, 8am – 5pm
Admission: 55 pesos
If you wish to see some ancient Mayan ruins in Cancun and do not want to spend an entire day heading to Chichen Itza and back, then consider the El Rey Archaeological Site. It is located right here in the middle of the Cancun hotel zone.
El Rey literally translates to "The King". The place was named so after the statue of a king (or a royal character) was discovered here.
El Rey started as a small settlement around 200 AD and went on to become prominent in the 1200s when it became the hub of maritime trade and fishing along with San Miguelito. There are theories that suggest that during this time, many people also migrated from the interior of the Yucatan Peninsula. This is also when many of the structures that you see today were constructed.
It takes about an hour to explore the ruins of platforms, walls, and columns of El Rey. The most important building is Building #2 which has a pyramid base and a temple on top. Buildings #1 and #4 are palaces which once had large audience halls supported by tall colonnades.
You can also visit Museo Maya de Cancun which is just a couple of miles away for a richer insight into the history of this area. By the way, if you love iguanas, you will find a lot of them here.
El Meco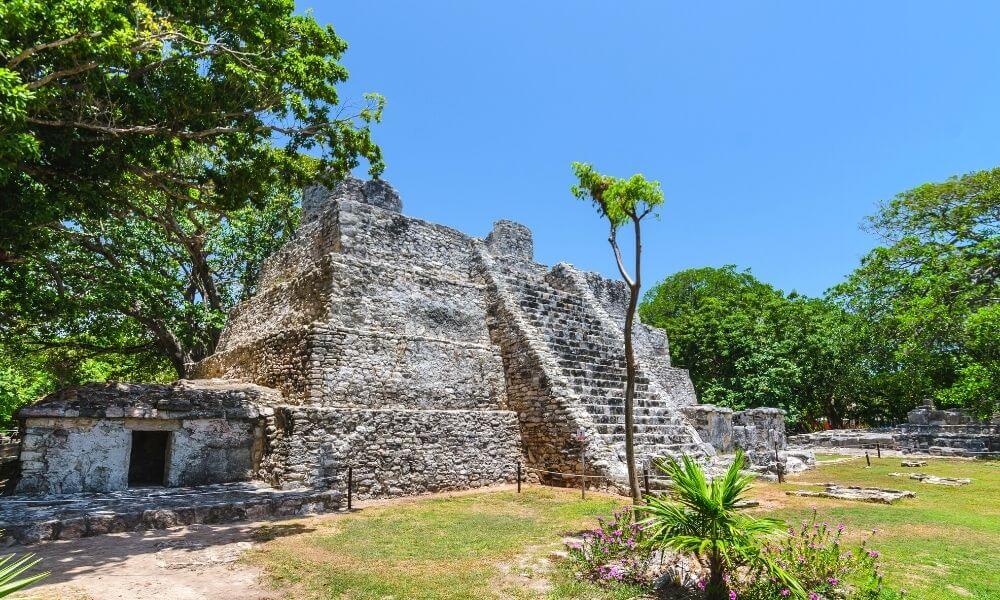 Distance from Cancun: 9 miles (15 mins)
Opening hours: Monday – Sunday, 8am – 5pm
Admission: 55 pesos
Located just 20 minutes north of downtown Cancun, the Mayan ruins of El Meco are an absolute hidden gem. El Meco is home to the tallest Mayan pyramid in the Cancun area and the one of the largest in Yucatan. Yet, it remains hidden behind large trees, shy iguanas, and a general lack of awareness. Chances are high that you will find this Yucatan pyramid in Cancun completely to yourself when you visit.
The pyramid here is called El Castillo and is dedicated to Mayan Rain God, Chaac. You can climb up to some stunning views of the city of Cancun, the beach, and the peninsula.
When El Meco started off as a fishing village in the 600 – 900 AD (Late Classic Period), Coba had a strong influence on it. As Chichen Itza went on to become more powerful in the Postclassic era, the effect of Coba waned off. This is probably why we see a strong influence of Chichen Itza in the monuments of El Meco.
Between 1200 – 1500 AD, El Meco became a powerful port in the Yucatan peninsula because it controlled access to the nearby sanctuaries on Isla Mujeres. Devotees had to pass through El Meco to get to the sacred Temple of Ixchel. This, no doubt, made this once-small fishing town highly influential.
Isla Mujeres Mayan Ruins
Now that we are talking about the Temple of Ixchel, let's move on to our next destination i.e. the Mayan ruins of Isla Mujeres.
The most prominent structure on Isla Mujeres is the Temple of Goddess Ixchel located on the southern tip of the island.
Ixchel was the Mayan Goddess of fertility, medicine, weaving, and happiness. No doubt, devotees thronged to this sanctuary. It is also possible that this temple was also used as a lighthouse in the ancient times.
There's an interesting story about how the island got its current name. Seems like only women (priestesses of the temple) inhabited this island in the past. When the Spanish landed here in 1517, they discovered several statues of Goddess Ixchel and other female members of her family. That is how the Spanish started calling it the Island of Women or Isla Mujeres.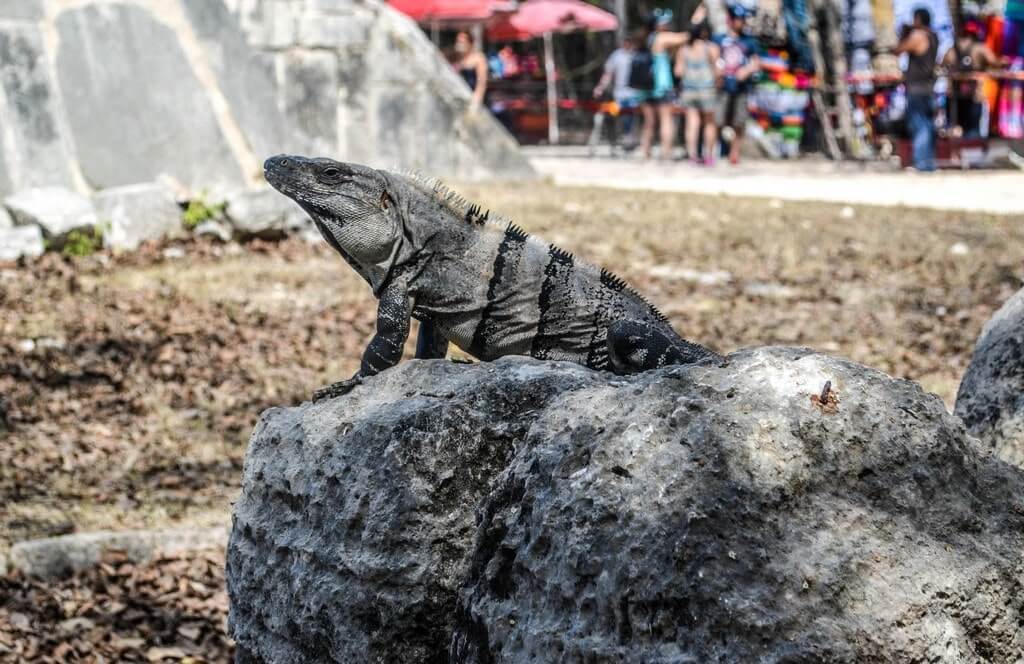 San Miguelito Archaeological Site
Distance from Downtown Cancun: 13 miles (25 mins)
Opening hours: Tuesday – Sunday, 9am – 4:30pm
Admission: 80 pesos
San Miguelito is another Mayan site in the Cancun Hotel Zone. It is almost like an extension of El Rey and is located right within the complex of the Mayan Museum. Same ticket for both museum and ruins.
Along with El Rey, El Meco, and Isla Mujeres, San Miguelito formed a powerful network of Mayan trading centers in the Post Classical Period (1200 – 1500 AD). Trade items mostly included dried fish, salt and honey for export and obsidian and jade for import. Now that reminds me that the ancient city of Teotihuacan was once a major exporter of obsidian. Interesting connections, right?
The site is divided into 4 groups: North Set, Chaak Palace, Dragon Set, and South Set. Chaak Palace is the most impressive with the remains of a large public building. The South Set is home to the ruins of a temple in Costa Oriental architecture, a style common to the eastern coast of Quintana Roo in the Postclassic period.
Yamil Lu'um
Distance from Downtown Cancun: 11 miles (20 mins)
Yet another Mayan ruin located right next to the Hotel Zone in Cancun is the small but pretty site of Yamil Lu'um.
It sits on the top of a small hill on the beach, right in front of the Park Royal Beach Hotel – a great place to stay if you wish to live right next to ancient ruins. Though I would say every hotel in Zona Hotelera is close to one ruin or the other.
There isn't a ton of stuff to do at Yamil Lu'um. It is basically just the weathered walls of Templo del Alacran or the Scorpion Temple. It is called so because of the remains of a scorpion sculpture found on its walls. The temple is more popular for the stunning views of the sea it offers.
Muyil
Distance from Cancun: 96 miles (2hr 10mins)
Opening hours: Monday – Sunday, 9am – 3pm
Admission: 45 pesos
Muyil archaeological zone, also known as Muyil-Chunyaxché ruins, gets its current name from a lagoon located nearby. Once upon a time, Muyil was a thriving Mayan city in the Yucatan Peninsula. It was also one of the earliest.
Settlers began arriving in Muyil as early as 300 BC long before the grand cities of Chichen Itza, Tulum, and Uxmal came into existence. In the early Classic period (200 – 600 AD), many Peten-style buildings were built here. To give you some context, this style was common in the ancient Mayan cities of Belize and Guatemala. Quite possibly, Muyil had strong trade and cultural relations with the rest of Mesoamerica.
The best thing about Muyil ruins is that it is located right next to the Sian Ka'an Biosphere Reserve. It is also a few minutes away from the ruins of Tulum which means you can easily combine both of them together on a day trip from Cancun.
San Gervasio
Distance from Cancun: 71 miles (2hr 45mins)
Opening hours: Monday – Sunday, 8am – 3:30pm
Admission: 188 pesos/10.50 USD
As Chichen Itza rose to power between 1000 – 1500 AD, San Gervasio rose to prominence not just because of its coastal location but also for its reputation as a hub of worship.
It is believed that San Gervasio was a sanctuary of Goddess Ixchel, Mayan god of fertility and medicine. We spoke about her in the section on Isla Mujeres ruins. Therefore, San Gervasio was an important pilgrimage center for ancient Mayans. Evidence suggests that every Mayan woman tried to visit San Gervasio at least once in her life.
The site is home to several interesting buildings (in ruins now) from the Postclassic period. The small house, the tall house – which could have been the shrine of Goddess Ixchel, the big house, and Los Murcielagos are especially notable.
San Gervasio is one of the largest Mayan ruins on the island of Cozumel and a great addition to your day trip. Check out latest opening hours and prices on the Cozumel Parks website here.
Here are a couple of good guided tours that show you the best of Cozumel including the ruins of San Gervasio.
Xcaret Archaeological Park
Distance from Cancun: 48 miles (1hr 10mins)
Opening hours for Xcaret Park: Monday – Sunday, 8:30am – 9pm
Admission fee for Xcaret Park: 100+ USD
Originally known as the Polé (refers to merchandise or merchants), Xcaret archaeological park is an ancient Mayan village that lies with the huge Xcaret theme park today.
The name Polé points the village's importance in Mayan trade and economy. Additionally, it also served as a stopover/departure point for pilgrims traveling to the sanctuary of Goddess Ixchel in San Gervasio, Cozumel.
Because of its location within a theme park, many tourists believe it to be unreal. But that's not true. These Mayan structures are authentic and date back to more than a 1000 years ago.
The only way to access the ruins is by purchasing a ticket to Xcaret Park which can be super expensive. However, if you already have plans for Xcaret and wish to see a small Mayan ruins along with it, then don't forget to step into this Mayan wonderland within the park.
Ek Balam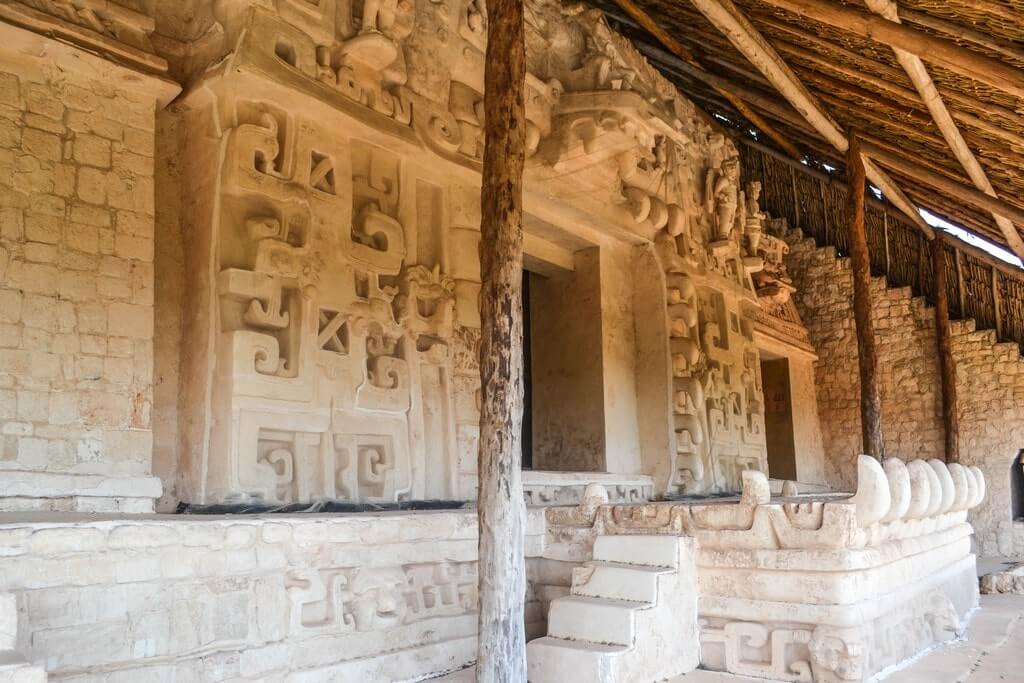 Distance from Cancun: 107 miles (2hrs 20mins)
Opening hours: Monday – Sunday, 8am – 5pm
Admission: 456 pesos (foreigners) /180 pesos (Mexican nationals)
Of all the Mayan ruins in Yucatan, the ones at Ek Balam were one of my favorites because they are unique.
Here, you will find distinctive stucco structures that you will generally not see anywhere else in Yucatan. Of special interest is a huge monster mouth that has often been denoted as the road to death. There are also a couple of winged warrior structures which are highly unusual in the Mayan culture. If you are visiting the ruins of Ek Balam, do not forget to check out these special sculptures.
Ek Balam has an extensive complex that was designed according to astronomical principles like many other Mayan cities including Chichen Itza. Highlights include the main pyramid, the Oval Palace, twin pyramids, and the arched gateway which once connected Ek Balam to a Mayan sacbe.
I find the admission fee a little too steep here – something you might want to consider when planning your Cancun day trip.
Have a look at this full-day tour that includes Ek Balam, Chichen Itza, and a cenote. If you choose their Cancun hotel pick-up option, tickets to both Ek Balam and Chichen Itza are included in it.
Cancun Mayan pyramids interactive map
Practical information for visiting Mexican ruins in Cancun
Always be sure to refer to the website of INAH Mexico for updated opening hours and admission charges for all archaeological sites in Mexico. INAH, or the National Institute of Anthropology and History, is the government body that protects and preserves these ruins.
Several Cancun pyramids were closed due to the COVID-19 pandemic. They are slowly starting to open up. Please check on INAH, Google Reviews, and Tripadvisor before planning.
Be sure to get a pair of sturdy walking/climbing shoes, sunglasses, water, and a hat. It can get supremely hot in the Yucatan!
There are a few Mayan pyramids near Cancun such as Coba and Ek Balam which you can still climb. But I wouldn't recommend that because of the fragility of the structures. I did climb Ek Balam a few years but I do feel guilty when I recall that those stairs and walls have been badly damaged by years of climbing.
Refer to our Yucatan bucket list for more things to do in the area.
Cancun Mayan Ruins FAQ
Where are the Mayan pyramids in Cancun?
The Mayan pyramids in Cancun are located right within the Hotel Zone which means you don't really have to travel far to explore Mayan history. Hotel zone ruins include the archaeological sites of El Rey, San Miguelito, and Yamil Lu'um as well as the well-curated Museo Maya de Cancun. Less than an hour away from Cancun are the ruins of El Meco and Isla Mujeres.
Can you see Mayan ruins in Cancun?
Yes, you can see Mayan ruins in Cancun. The ruins of El Rey, San Miguelito, and Yamil Lu'um are located right within Cancun's Hotel Zone. El Meco and Isla Mujeres are just 30 minutes away. Some of bigger and more popular ruins such as Chichen Itza, Coba, and Tulum are usually done as a full day tour from Cancun.
What Mayan ruins are closest to Cancun?
The Mayan ruins that are the closest to Cancun are El Rey, Yamil Lu'um, and San Miguelito. They are located within the Hotel Zone. Two other ruins that are also pretty close (30 minutes away) are El Meco and the Temple of Goddess Ixchel on Isla Mujeres.
How far are the pyramids from Cancun?
The famous pyramids of Chichen Itza and Coba are both more than 2 hours away from Cancun. The Mayan pyramid that's probably closest to Cancun is at El Meco, only 20 minutes to the north.
What ancient ruins are near Cancun?
The ancient ruins that are closest to Cancun are the Mayan ruins of El Rey and San Miguelito. Located in the Cancun Hotel Zone, they make for an interesting getaway along with the Mayan Museum of Cancun. Another set of ruins that are also super close are those of El Meco and the Temple of Ixchel on Isla Mujeres.
Loved our Cancun Mayan ruins guide? Pin it for later!